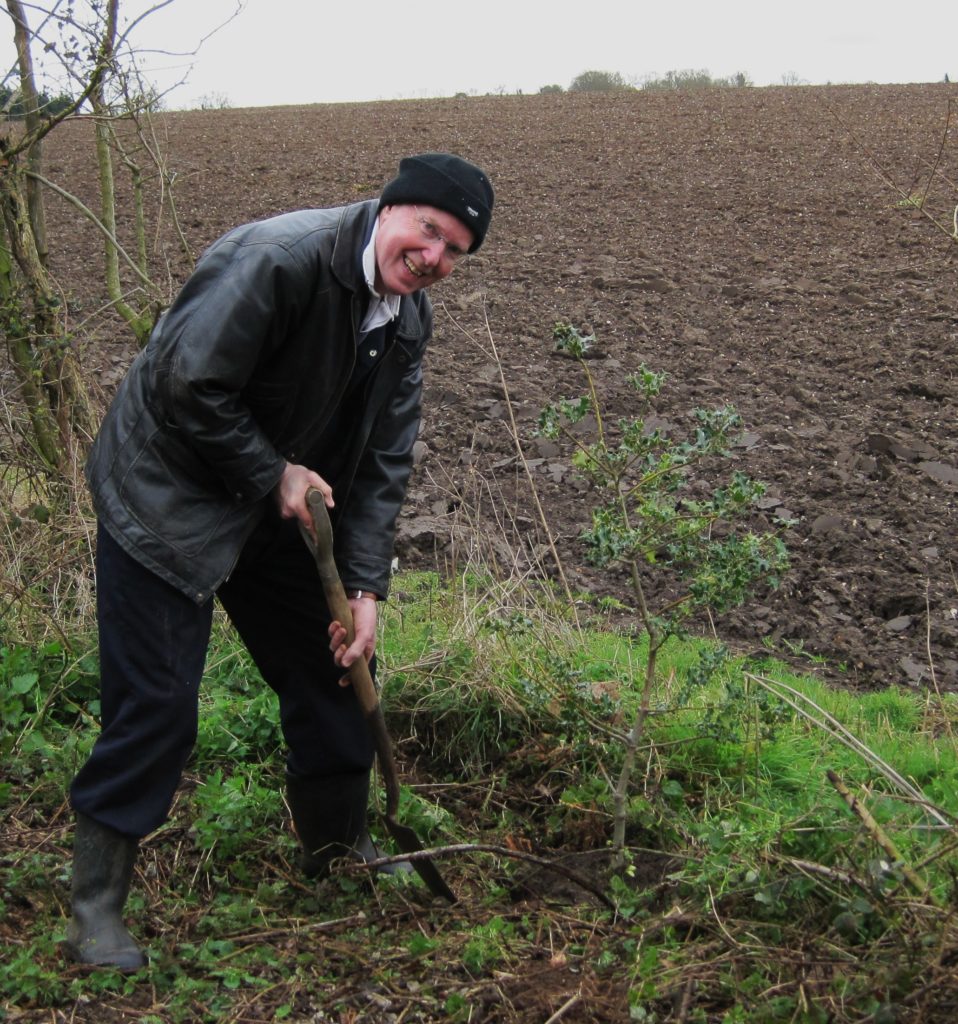 The Wenhaston team get stuck in to yet more stumps – which seem to stretch on for ever. There's a large concentration about half way through the woodland strip, however, which will be very hard indeed to do by hand.
A small (1.5 ton or 3 ton) "360" digger would be ideal for this work, and could probably do the entire trackbed in a weekend, but access is not easy: we risk damaging the very fragile ecology of the pastures if we traverse them before the soil hardens in summer – and we have, currently, no vehicle access to his part of the site anyway. Things are further complicated by the existence of some live, and a couple of very large dead, trees which in one case block – and in others encroach on – the trackbed path: the birds' nesting season prevents work on these until August, unless we hire expensive consultants who can certificate individual trees as "nest free".
In concert with our wish to conserve the environment here, we are also planting appropriate native species in some of the gaps left where trees were demolished by last winter's storms. It's getting quite late for bare-root planting this season, but we plan to replant lost tree cover in a much more extensive way next winter, with advice from our Suffolk Wildlife Trust members.
The team now has permission from the Trustees to begin to re-build the fencing along our southern boundary, and also to replace the gates at the historic driftway crossing. As mentioned earlier, original fittings and timbers, where available, will be used in combination with new locally- and responsibly-sourced, treated timber (the SR used creosote, which is nowadays banned). The fence line will follow the original, except where large, live, high-quality trees encroach, and are of importance to the local environment – here, gentle diversions to north or south are planned. The basic post and rail wooden fence will cost around £10 per yard – and even for this short section, at around 440 yards for just one side – it's easy to work out! The Trust's funding is stretched very thin, so any donations towards this would be very welcome indeed.
In a very few weeks it will be the anniversary of our April 30th, 2013 planning application to re-instate Wenhaston station and a short demonstration line on a two-acre brownfield site. To say that we are unimpressed with the planning authorities' inability to make a decision on this would be an understatement.
We take some out – and put some in