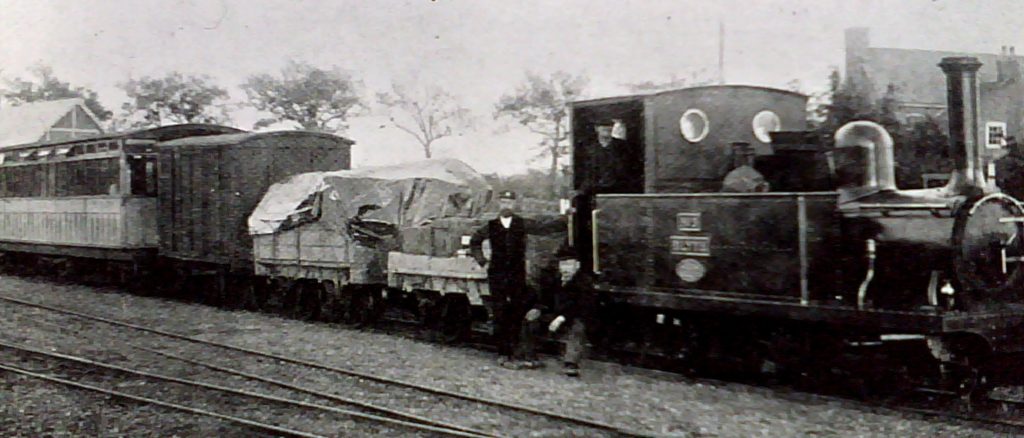 The SR was still using almost all its 1879 stock at closure in 1929 – an astonishing survival. The majority of the Southwold Railway locos and rolling stock were destroyed in 1942 as part of the wartime need for scrap iron. One exception is the van body No 13 currently preserved at the East Anglia Transport Museum. Southwold trains were almost all mixed, so, to complete the historically-authentic picture, we are building a complete heritage mixed train such as those that ran from 1879.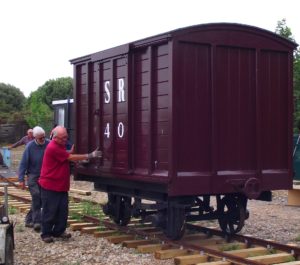 We believe this has never been done on three foot gauge, or (as far as we know) on any other gauge.
The most important component is Sharp Stewart 2-4-0T "Blyth": this project, launched as the 2-4-0 Club several years ago, has had to take a few steps back to ensure compliance with current rules and regulations governing the operation of steam locomotives in close proximity to the public.
Then of course there's the rolling stock for this locomotive to haul: firstly, there is covered van No 40, for which the underframe is ready – re-gauged from a Royal Naval 1940s wagon at 2'6″ gauge, shortened to 10′, raised to SR coupling height, and fully braked. A local workshop – Special Objectives for the Local Disabled – has completed the body build, entirely in hardwood:  the van, now lettered and numbered, is at SteamWorks, Southwold, on display., with jointing as original, only the sliding doors  are still to be constructed.  These are scheduled for building in 2017, with all the complex door track and hanger steel-work already in hand, manufactured to SRT design by Peggs of Aldeburgh.  An unusual part of the heritage train is an additional, static SR van body – No. 13 – which is complete, and in place at Wenhaston Station as a tool shed for the volunteers.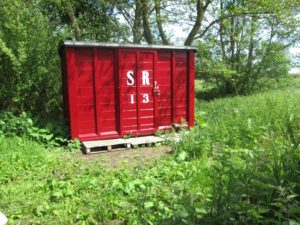 Secondly, there is a classic high-curved-end open wagon No 41: the under frame has been re-gauged and modified similarly to that of No. 40, the floor is almost complete, and SRT volunteers are currently constructing the body with timber kindly donated by Duncan's Builders, Reydon.  Only the hinged side doors remain to be completed.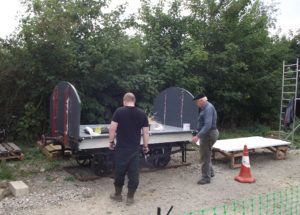 The third item of rolling stock will be one of the tramway-style coaches for which the SR was so famous: outline designs for balcony brake composite coach No. 8 (including necessary modifications to accommodate current regulations) are done, with the next step being the production of a detailed drawing set.
An SRT Member has kindly donated three more Royal Naval Armament Department underframes – so the Heritage Train can grow!
The rolling stock (two wagons and the coach) is likely to cost between £150,000 and £200,000 to complete, with volunteers doing as much of the work as possible. As we have already raised around some of the total, that puts the cost of the entire working heritage train – excluding the locomotive – at not much more than £10 (five years)  per month over the build period from about 400 people – which is certainly eminently possible. The reward will be something never before seen, on this or any other gauge!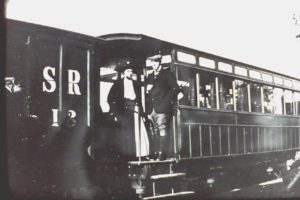 A variety of exclusive gifts, and various forms of Membership (including Life Membership for substantial donors) – will be provided to contributors by the Trust. All donors will become part of the Heritage Train Project, with access to collectible items, dedicated Newsletters, social events, and the satisfaction of belonging to a pioneering group.
We understand that we are asking potential sponsors and donors to take a leap of faith. Never before has such an ambitious Project been contemplated by a small Trust – who do not, as yet, even have a railway on which to run it! We can't offer you rides yet – but rest assured that that will happen in the future. The Southwold Railway – a unique and classic part of England's railway history – will be rebuilt, and the SR without its classic rolling stock is literally a non-starter!
To make a donation to the Heritage Train Project please use the Paypal Donate button below.