Despite closure in 1929 and being scrapped in 1942, the trackbed of the Southwold Railway survives almost intact. Halesworth Station is now a housing estate; Southwold Station site will soon be vacant, with the Fire and Police Stations demolished. Many civil engineering features survive, and re-crossing the Blyth (and even burrowing under the A12) are solvable problems in the long term. We already own approximately 45 chains (half a mile) at Wenhaston, with the remaining trackbed making up 700 chains in total.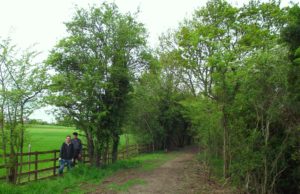 Inspired by similar successful land purchase efforts on behalf of the Lynton & Barnstaple Railway, we set up (at the 2015 AGM) a Trackbed Purchase Fund for immediate use in case any further sections of trackbed become available – for sale or lease. This is inevitably a long-term ambition, but one which is totally in tune with the organisation's charitable aims.
With small diversions inevitable in some places, the plan is to stick as closely as possible to the historic route. Ownership of the various sections is in many different hands, and much of it is unused. We are currently in the process of establishing exactly who owns each section.
To help us achieve our ambitious goal of complete restoration of this unique and iconic narrow gauge branch line, please donate to the Trackbed Fund. Make it grow!
To make a donation to the Trackbed Fund please use the Paypal Donate button below.