Peckett 0-6-0ST  "Scaldwell" of 1913
Works Number 1316, built at Atlas Works, Bristol, for the Lamport Ironstone Company, Northampton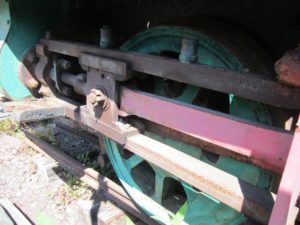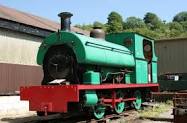 The Trust is very pleased to announce that we have become the owners of a remarkably-complete three-foot-gauge steam locomotive. "Scaldwell" has been part of the Amberley Museum for many years, but no longer fits into their collection (as their onsite railway is two-foot-gauge): Amberley contacted the Trust to see if we wished to be shortlisted as potential future owners. We were then chosen to receive this important asset, which is a tribute to our growing reputation within the heritage railway movement: we are very grateful for the confidence in us shown by the Amberley Museum, and would like to thank Martin Piggott, James Smith and Rebecca Main for their hospitality, and all their help.
Although the locomotive is not, of course, a Sharp Stewart, and differs in design from our own locomotives, it has its own history, being a very rare genuine Bristol-built three-foot-gauge locomotive, which worked in the essential ironstone industry during the First World War, and after. It is considerably more powerful than the SR's 'Sharpies'.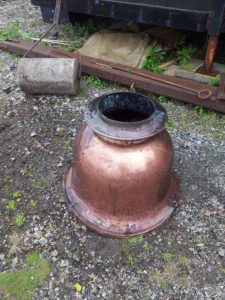 As it has been in the open for some years, it has quite a bit of superficial rust and damage – but the basics are good, as far as we can ascertain: Peckett had a reputation for over-engineering their products. Our engineer has made a thorough survey, and is happy that restoration is eminently possible. "Scaldwell" is remarkably complete, with almost all its fittings intact – and the locomotive even comes with a spare set of unused wheels and axles!
The locomotive arrived in July, thanks to Duncan Milner Haulage, and Wave Trade of Lowestoft:  After a certain amount of persuasion, the wheels turned!   The first stage after transport was to remove all the valuable and irreplaceable fittings – this was done immediately.  Then the loco was cleaned up, with a great deal of scale removed:  removal of the steam dome cover (which is being polished), and the safety valves and top piece, revealed that inside, the condition of the fittings is very good indeed.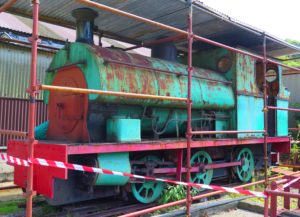 In Autumn 2017, the loco is due to be dismantled, with cab, bunker and saddle tank removed, allowing the boiler/firebox/smokebox assembly, once all pipework is removed, to be raised so that testing and examination can be done.  Only then will we have some idea of what needs doing, and how much it will cost.  At this stage the rolling chassis will also be further exposed, so that it can be assessed.  There is no reason why grant aid should not be possible, as this locomotive has historic importance.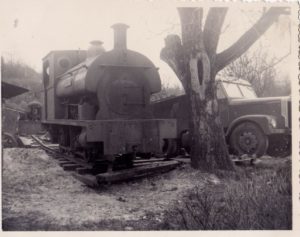 We would like to reassure members and supporters that this certainly does not mean that we are abandoning our Sharp Stewart "Blyth" project: the railway must and will have an SR-style loco: our Heritage Train will run on the SR. But most heritage railways run rolling stock which is available, practical and simple, in addition to an authentic heritage train: "Scaldwell" joins the Three Foot Gauge Railway Supporter's Society's Manx Northern Railway Coach, Peter Nicholson's Motor Rail loco "Mells", and the Chairman's Hudson tipper, as valuable, though not SR-styled, rolling stock on our stocklist.
Help us make this restoration project a reality and donate through Paypal: