On a day a Scotsman would describe as dreich, volunteers again assembled at Steamworks for a day of fun and frivolity. Most of us concentrated our time on the meter cube plastic containers that have been obtained to provide a water store for Blyth.
Our first task was to clean out some of the previous contents left in the containers, whilst scraping through the inspection hatch did make a little progress we soon switched to a warm water and washing up liquid solution. This did provide, as someone quickly pointed out, the first boiler on our 3 foot gauge track – previous visitors to the cafe may recognise the tea urn!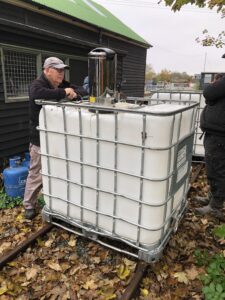 After a few wash outs, more scraping and the use of a wet and dry vacuum cleaner we felt things were as good as they were going to get so we laid a couple of sleepers down and moved the containers to a temporary position under the guttering downpipe. I am pleased to report that rain water was being collected by the time we all left.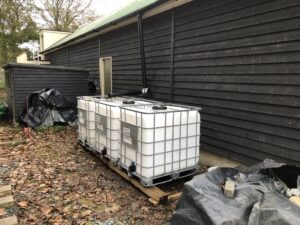 The three containers will be linked by a manifold through their emptying valves to increase capacity. In the short term we intend to use a submersible pump to lift the water into the locomotive. We are still in the planning stages for a more permanent structure closer to the doors of the engine shed which will be clad in wood to provide a more aesthetic solution which will fill the locomotive tanks by gravity.
Richard Stone
Volunteer work on a grey day