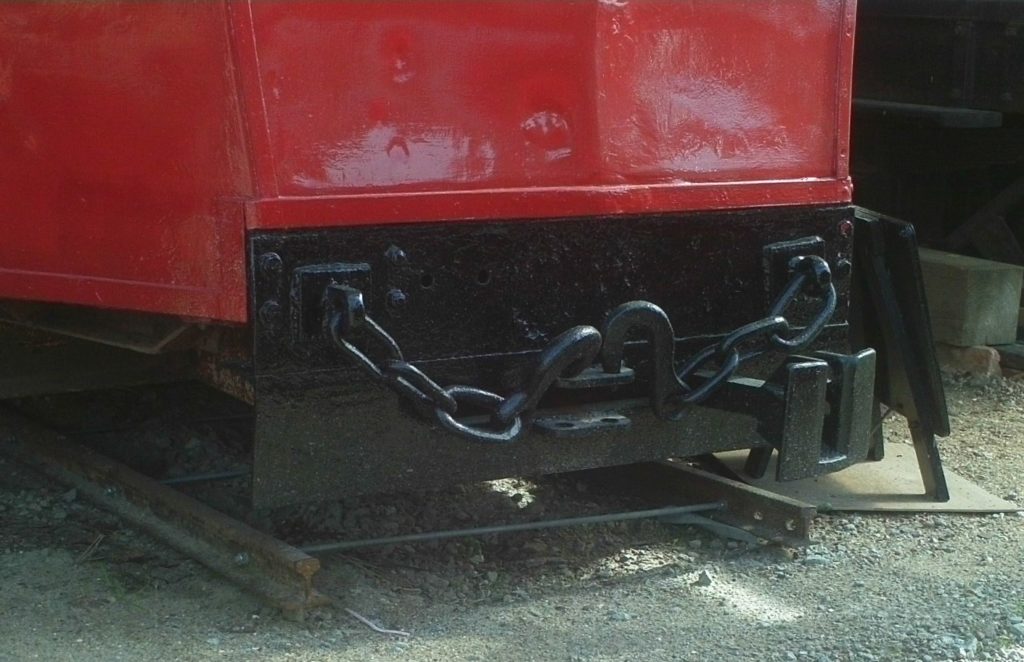 By the end of the second May Bank Holiday weekend, the Trust's rolling stock was visibly moving on. Coach 7's body is complete outside (except for some more work on some of the doors), and is resplendent in maroon, cream and black. The lettering will now be added. The photo shows the "Southwold end" of the coach with the panel of 30 lb-per-yard original SR rails peeking out from underneath: these will be extended, temporarily, with extra panels into the yard to allow shunting. You can see the method of holding to gauge – to make the rails portable, they are drilled, and tied to gauge with studding. Metre gauge studding is – very luckily – exactly right for the job. You will see that the weight of the coach (6.5 tonnes) has raised the rail ends – they will soon drop to ground level when the coach runs over them!
The doors, inside, are close to completion – the end panelling is varnished – all except one seats are rubbed down and varnished.
James has been seen (or unseen, perhaps?) crawling around underneath, trying to find any remaining evidence of the brake gear, which is entirely absent. Mounting the brake shoes which we have, onto brake hangers, is relatively simple (as far as anything is simple when it all has to be done upside down in a very confined space), but connecting the brake hanger cross-members to the sad remains of the handbrake mechanism is an exercise in topology, giving new meaning to the first-year school physics of levers of the first, second and third orders.

Meanwhile, on Van 40, the 8" x 3½" hardwood solebars are fitted, as is one of the headstocks: the base plates are ready to fit – these will be swiftly followed by the coupling/dragbox assemblies. Peggs of Aldeburgh have made two very nice headstock protectors – we didn't really fancy cutting a rectangular hole out of 10mm steel ourselves – and we could never have done it (or the chamfer) so neatly. These plates are modelled on those on the SR van at the East Anglia Transport Museum.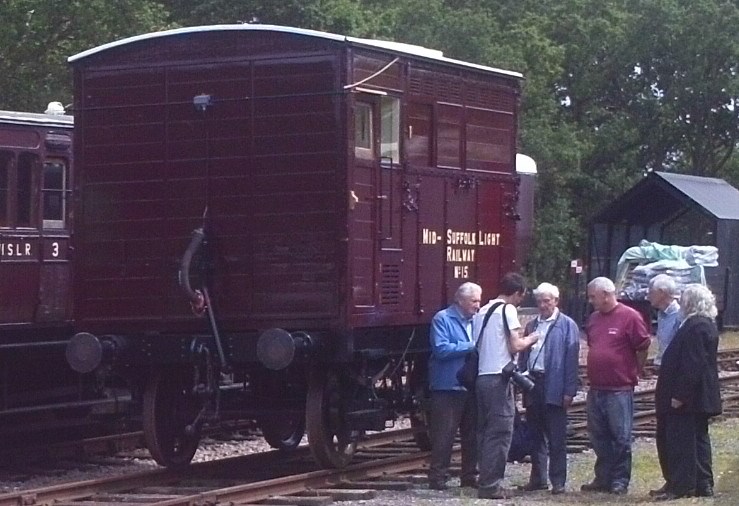 The launch into traffic of the Mid Suffolk Light Railway Museum's 1869 GER horsebox on May 26th is also shown, as it demonstrates the high quality that can be produced in the heritage railway business by "amateurs" – our friends from central Suffolk are justly proud of this unique vehicle.
Van 40's underframe nears completion, and Coach 7 shines