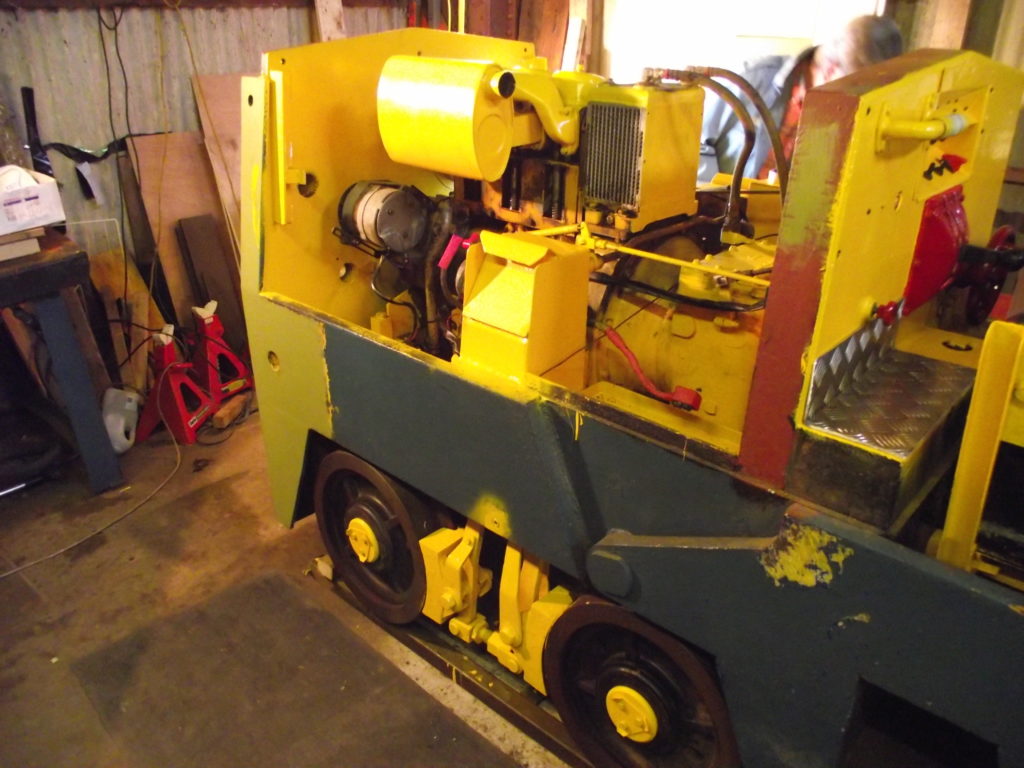 Peter Nicholson's Motor Rail locomotive is beginning to look, again, as it would have done when built in the late 1960s. As we were having the components of Wagon 41 gritblasted by Coastground of Yarmouth, we thought we should also do the loco body sides and bonnet top. Having removed the handles and handle rebates, the body parts, blasted and primed to a very fine finish, were painted (brushing followed by spray) in Turners' heat resistant JCB yellow, ready for re-attachment. As is always the case (this paint is very hard to remove, meaning that hands, arms, clothing and – in my case, my watch – were all flecked with bright yellow) various other parts were yellowed while the brushes were out – the newly-fitted brakes, the driver's and mate's seats, and more engine parts. The most important controls have been painted red for easy identification – these are the main forward/reverse/throttle control, the sander control pull, and the handbrake.

Ken the Deutz man finished cleaning out all the engine air cooling apertures – and an interesting amount of assorted detritus emerged. He drained the engine oil, ready for refill, for a run with the old filters, for draining again, and refilling again with new filters – if the filters we have sourced turn out to be exactly right. The engine is so old that none of the Deutz parts suppliers recognise the serial number! New V-belts have also been sourced, and await fitting, when the (very very fiddly) removal of the faulty fan belt breakage sensor is finally done.
The rear (cab end) body is now belt-sanded down (a very noisy and mucky job that can only be done when our "landlords" are out of the office), and primed with Williamson's primer, while the second coupling assembly is now permanently affixed with high-tensile bolts. Trial-fitting the driver's seat results in an ergonomic nightmare – its position in relation to the controls means either recruiting a driver with a left elbow that bends the wrong way, or (possibly more likely) a driver who can operate controls on his left with his right hand. Should be fun.

The team has also taken on the job of building the railway-style Wenhaston station WC – for which we do have planning permission – so a great deal of sawing, gluing, drilling, screwing and nailing (with incidental head-scratching) is being done as well.
The loco and an essential facility