Somehow it's ended up being October, and I'm not entirely sure how that happened. I still hadn't got used to the concept of August, and logic would seem to suggest that was some time ago. Mind you, the onset of autumn does mean I no longer have to traipse around the site at Steamworks every evening with a hosepipe, as there has been an abundance of water down there in recent weeks, to the extent that certain areas have become somewhat spongiform underfoot. Nonetheless, it's filled the pond up nicely, and it's doing t' garden good. The marigolds are still doing their thing, and the begonias we planted this year have grown to an almost disgusting abundance. It also means we get some rather fine rainbows- shades of the Ashover Butts Light Railway?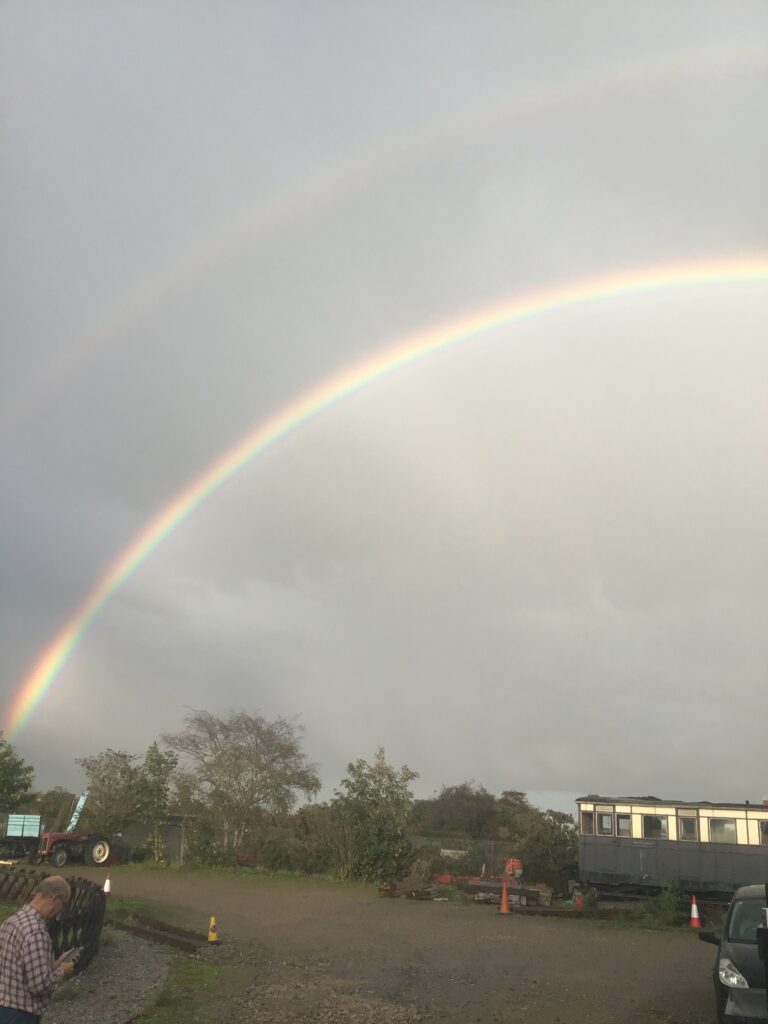 Having uploaded some photos for this post, I now realise how behind on the news I am. My defence is I had a holiday, and haven't caught up yet (never mind that the holiday was in August..). We were fortunate enough to have another visit from Keith and Linda in August, who set to work, Keith finishing off the paintwork on the locomotive shed extension, and Linda wrestling valiantly with the buddleia, which grows in happy proliferation in these parts. Sadly I didn't get a photograph of them beavering away this time, entirely down to my own inefficiency!
 Our regular volunteers carry on volunteering of course, with recent focus being on completing the gaps in the 3' line. John H, Toby, Whisk and Peter Southgate formed an impromptu track gang, Peter bearing lengths of 50lb/yd rail above his head like the man in the Guinness posters.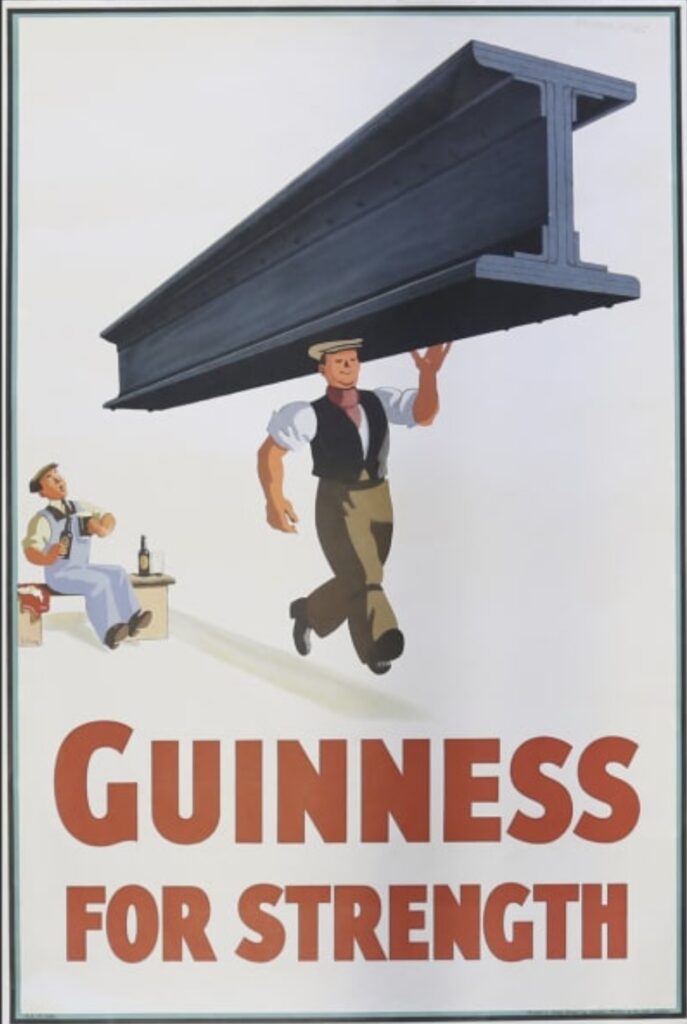 (The above is an accurate portrayal, captured on the spot by a passing commercial artist).
Quite apart from these travails, John H has also been at work in the café. He's been squirrelled away in the WC adjusting his wainscot, which he assures me is nearly ready. I've seen it, and I'm confident it will be greatly appreciated when it can be seen by the public again. I might even post a photograph of it here when it's finished. Meanwhile, Ted is still cleaning and polishing the spectacle frames from Scaldwell- this isn't due to any tardiness on his part, but the fact that some of them were very badly tarnished and pitted by chemical action. Somehow Ted has the patience to sit there week after week and work his way through them, and is getting excellent results for his pains.
The above photo was emailed to me by John B for inclusion on the Blog. He also sent me the following photo in which he somehow failed to catch the any of the volunteers actually doing the work (Toby, Whisk, John H and Peter) but managed to catch yours truly in an highly unflattering position. I suspect some kind of highly secret Machiavellian plot.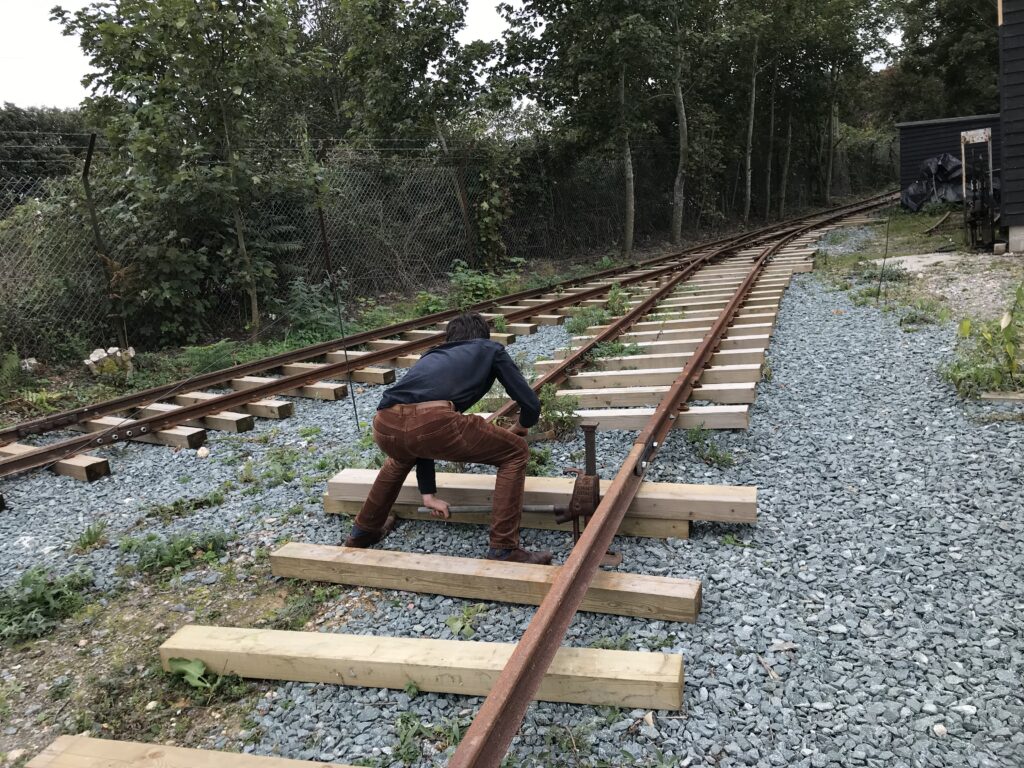 Not sure what I'm trying to do there, but it can't have ended well.
As to other news, North Bay Engineering are still working away on Blyth. Dave has recently sent us some more photographs of progress on the valve gear, whilst for our part we recently despatched the chimney and smoke box door to Darlington to be fitted to the replica. The patience of John R and Maureen waiting on site from 8:00 until 17:50 in case the courier turned up was commendable, to say the least!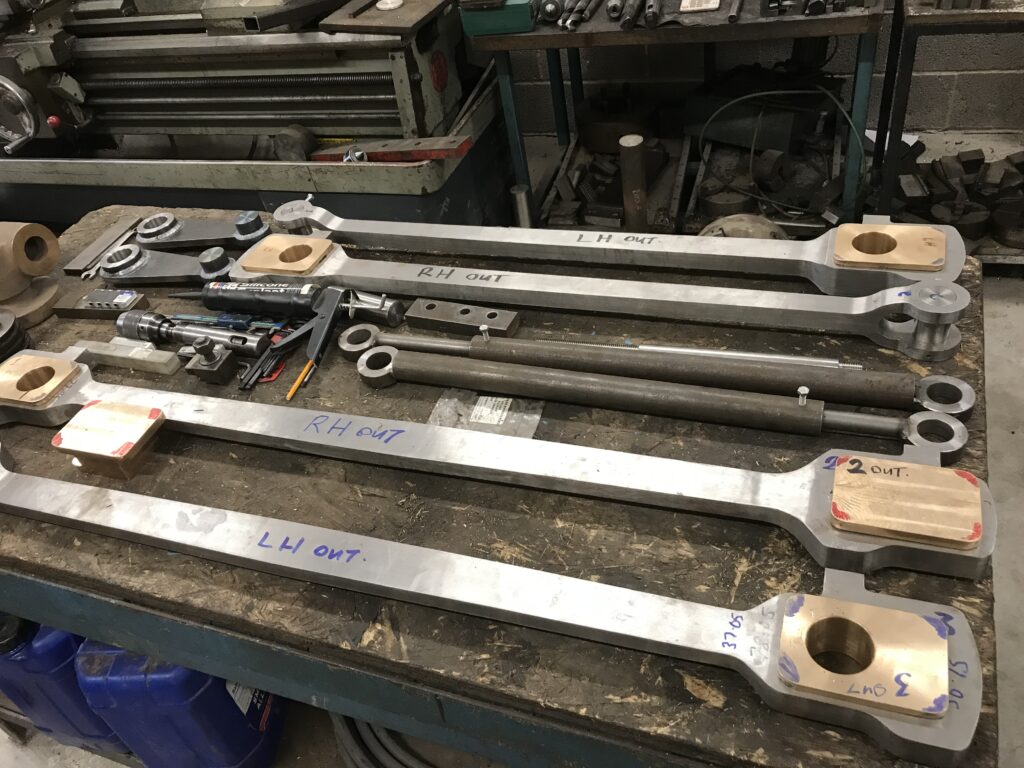 Above are the coupling and connecting rods, in the process of finishing. The big end brasses are being machined, and will be split in two when finished. Robin and I have been dealing with the brasses from Scaldwell- decades of wear and a close relationship with the Hammers of Antiquity means they don't look quite as pristine as those above..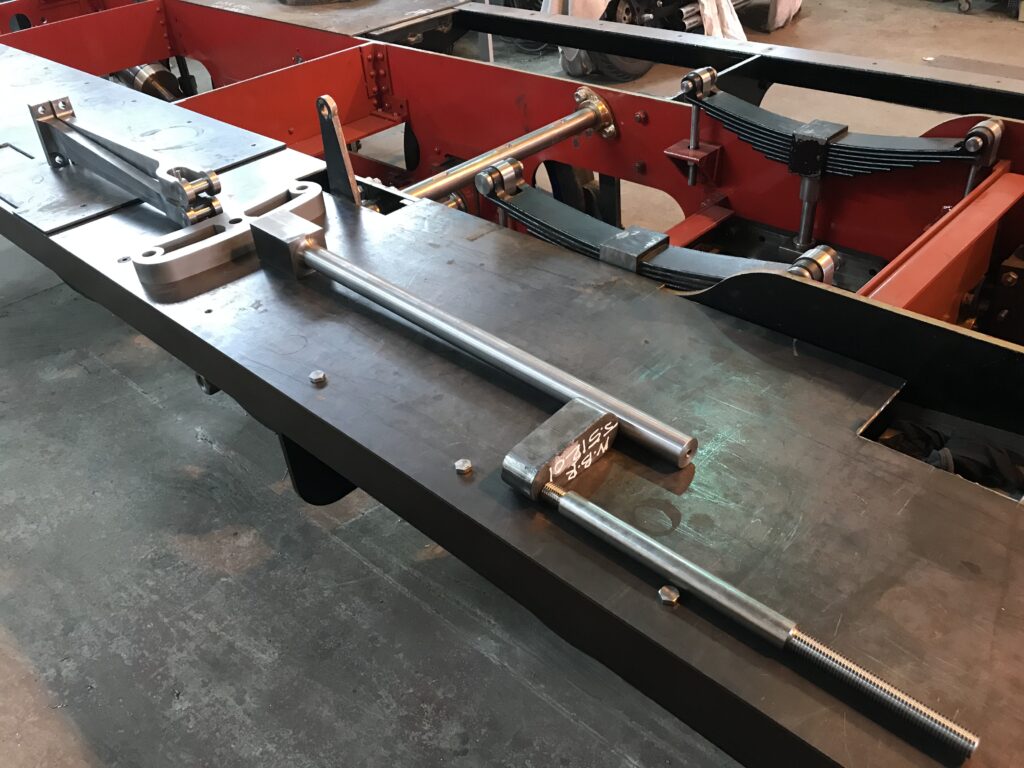 More valve gear parts above, in this instance, a pair of eccentric rods, expansion link and valve rod and spindle (reading from left to right). These are components of the Stephenson's link motion that I have mentioned in a previous blog post- and threatened to write about, if I recall. If you're very unlucky, I will, but with my memory you might be safe.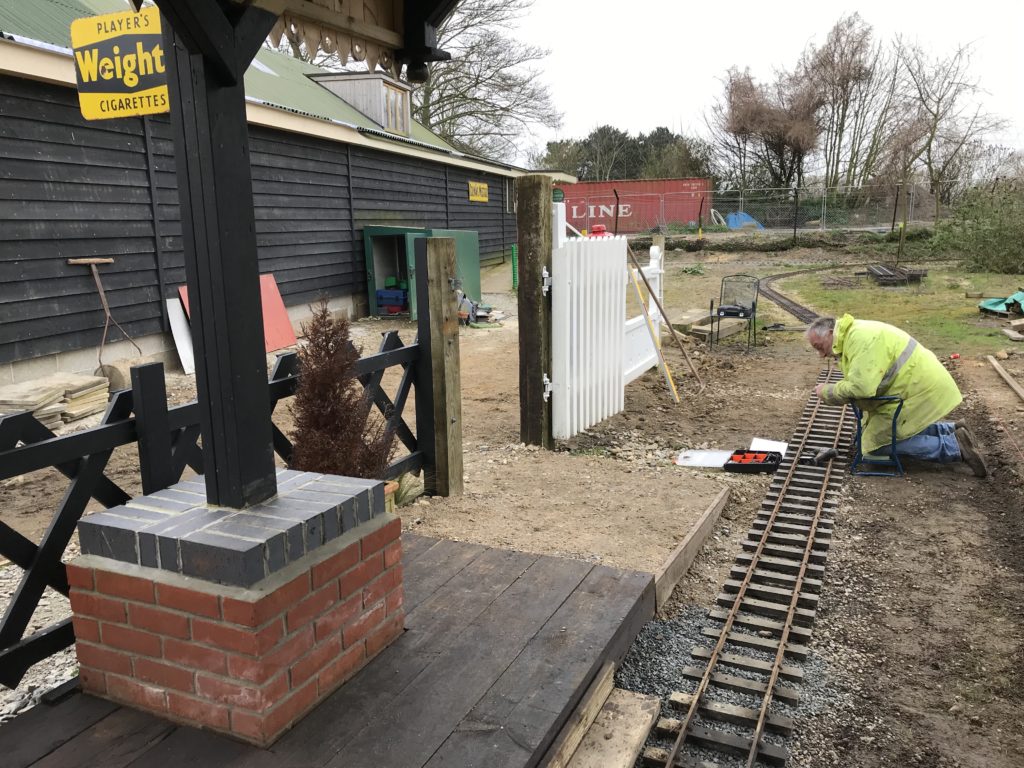 Apropos de rien, I came across this photo on the Blog some time ago- it was taken before lockdown, and shows Toby lifting the BVLR track before the loop was put in. A month (or two) ago, I took a second photo from the same position. Sadly the light wasn't so good, but it just goes to show how far things have progressed in this area of the site.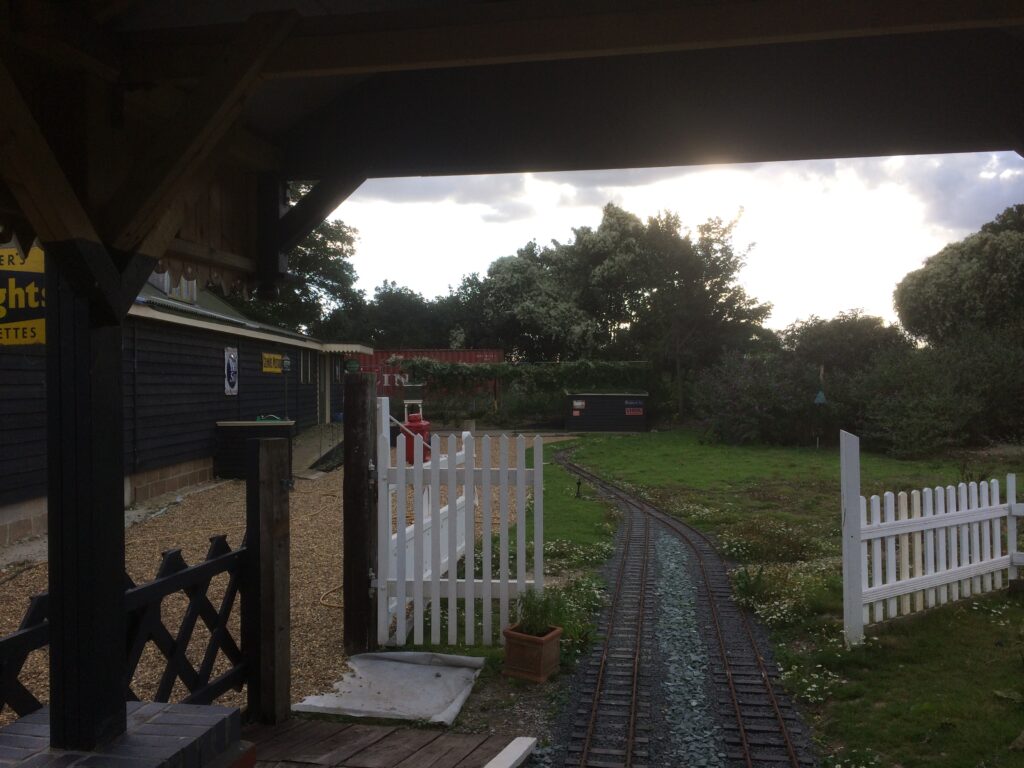 Not bad, eh? It's one consolation for an otherwise disappointing (not to mention bizarre) summer that  it's been possible to get so much done, but with a little bit of luck there will be an opportunity to return to business as usual next year. We have however been able, as lockdown restrictions have eased, to start offering short tours of the site by appointment only for small family groups, and these have proved successful. It's good to know that people's interest is still piqued as they walk past even if we are closed, and there are many who follow our progress from afar and welcome the opportunity to have a quick look round at the progress we've made. To quote the rather defeatist slogan adopted by British Rail in the '80s, 'We're getting there'. At least we have the excuse that any leaves that fall on our line are disproportionately large..


Oliver
Season of mists and mellow fruitfulness..