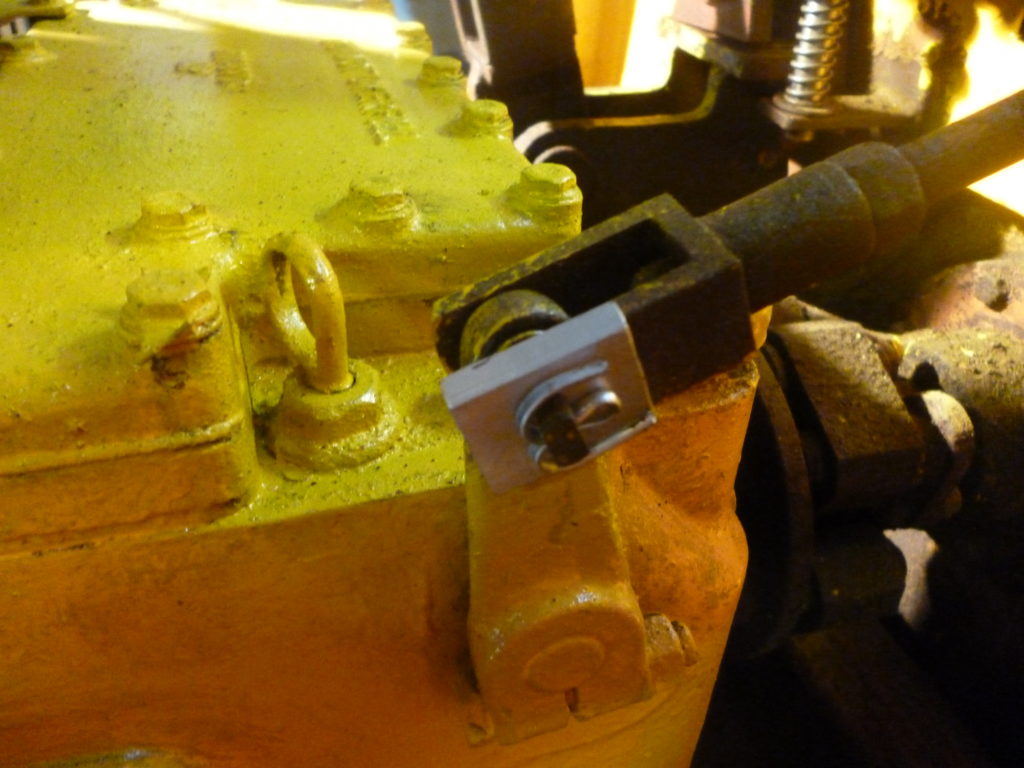 Having missed the first workshop session of the month due to being on a family holiday over Easter I was keen to get going this time to get my homework completed! The linkage between the control unit and the torque converter needed a keeper fabricating; basically a piece of aluminium angle with a rectangular slot fitted over the head of the pivot pin to prevent it coming free due to vibration. After a little fettling with a cone shaped burr in my mini drill it was soon in place and retained with a split pin.
Whilst I was working on this Ken was progressing with the fuel system, getting the tank gauge cleaned up and working very smoothly, whilst John continued his mammoth task
of replacing most of the electrical circuits. Bob meanwhile was lying on the floor getting one of the sanding pipes re-attached.
James and I then turned our attention to the engine bonnet side covers. These are going to join the parts of the most recent RNAD chassis on their visit to Costground to get grit blasted. Each side has two chrome securing levers which we were keen to remove before the cleaning process commenced. I started to ease the retaining nuts and bolts but a few of these were well seized so James got them sorted using the grinder.
After lunch James and I turned our attention to the RNAD chassis. Having cut off the buffer beams a small piece of strengthening fillet plate was left on the bottom of each sole bar held on with one rivet. I cut the head off each rivet with the grinder then James and I attacked the metal with cold chisel and sledge hammer to remove the plate – a task far easier to write about than to do, taking much effort and generating a lot of noise! Whilst the grinder was out I trimmed off the lashing points in the sole bar channel which we do not need and removed the remaining fastenings that used to secure the floor
Needing to leave mid-afternoon, I collected my homework for this month – two slightly larger keepers – this time to go on the brake mechanism and the welding up of the replacement battery tray (fortunately there is some scrap steel for me to practice on first) – reports and pictures next time!
Guest Blog: Mr Awkward's Workshop Diary – 18th April 2015