After a cancellation yesterday, because of very strong winds, six Trust volunteers had a very good day in the sunshine, on the Wenhaston site on Sunday Feb. 16th.
We managed to complete most of the remaining dead tree work (where still standing or leaning, these have to be done by the end of the month). The trackbed path is now almost complete, although a very large number of stumps remain: dealing with these (which everyone trips over, all the time) will take much of the early spring.
At the accommodation crossing site, several more trees have half-fallen in the most recent storms, and hopefully we''ll have time to make these safe in the next week or so. We have been puzzled that, although the posts for the northern boundary gate on this crossing were visible, there seemed to be no evidence at all for the southern gate. However – we were tackling what seemed to be yet another dead elm covered with ivy, poised uneasily over the pathway, and the saws kept grating on metal. It turned out that the "tree" was actually one of the gate posts, rotten at the base, and completely swathed in and supported by ivy, the ivy also having grown another eight or ten feet into the air, supported only by itself.
Anyway – after a great deal of sawing and clipping, we managed to get it down – much hampered by some brambles the like of which I have never seen – some more than an inch thick, and others armoured with some of the densest and most vicious thorns we could imagine. Somewhat cut about and excoriated, we retired with honour from the fray at 3, as the clouds gathered and a cold wind rose.
Gradually, we are gathering a number of SR artefacts – hold-back chains for the gates, hinges, various fixings, sleepers, fencing posts and rails – and an iron hoop that one member insisted was the tyre from a wagon wheel (if only).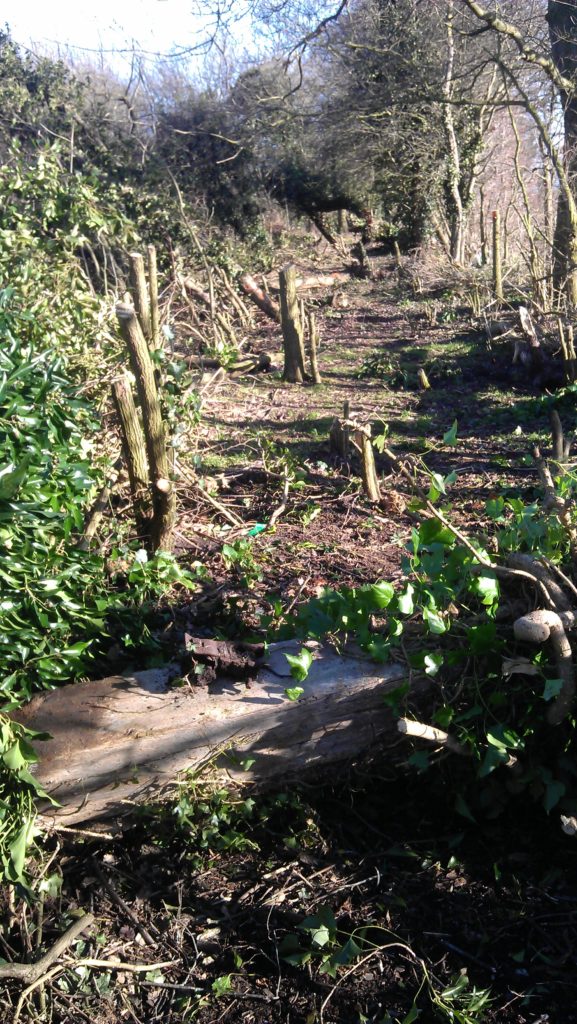 A Really Beautiful Day at Wenhaston