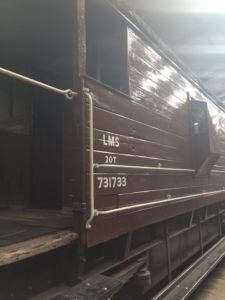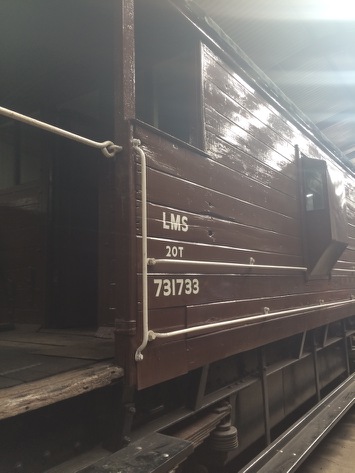 The Leiston Works Railway and Friends Of Leiston Railway Facebook pages are well worth a visit if you haven't come across them, with the restoration of their LMS brake van (under the supervision of our own Roger Gregory) well under way. Hopefully it won't be too long until the van looks as good as the restored van illustrated at the top of this Post. [Thanks to new Trust Junior Member James Byford for the photo.] Roger was also successful at the recent auction of railway memorabilia from the collection of the late Peter Punchard, managing to acquire on behalf of the LWR a station oil lamp once in use at Leiston Station.
The trackbed between the two sections of the Richard Garrett works is now being cleared in readiness for reinstating the track, so hopefully there will be a chance for supporters and visitors to ride in the restored van behind SIRAPITE in the not-too-distant future!
With quite a bit of inclement weather throughout December and the Christmas period, the Trust workforce team took a well-earned break and started back with a will on 10th January; laying the new shed floor, preparing the groundworks for the BVLR extension at Blyth Road and continuing with salvage of any useful carriage components from the 'hen house' at Wenhaston. Another major 'push' over the coming months will be to finalise plans for the installation of the lake and associated groundworks, and get cracking to enable both lake and landscaping to settle in throughout the spring. At the moment the recent rains have made the ground very muddy, but things should become easier when the ground gets a chance to dry out a little. Why not come and join us…!
"When the snow lay round about…"