First of all, before we get onto matters at Blyth Road, we have received another tidbit of information on Blyth from Dave Humphries at North Bay Engineering.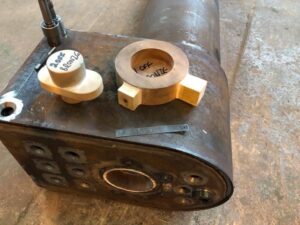 The above picture shows the wooden patterns for the cylinder rod glands and the steam brake cylinder, reading from left to right. These are about to go off to the foundry to be cast- non-ferrous parts these, to be cast in brass or a bronze alloy. The castings will then return to NBR for machining.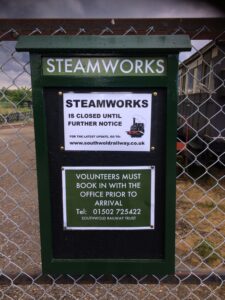 Volunteer activity recommenced at Blyth Road on Wednesday, with due social distancing measures in place. As can be seen from the notice above, volunteers are welcome to come down and work, the only stipulations being that they ring in advance, to ensure that we can restrict numbers to a maximum of five people, and follow the social distancing and hygiene measures prescribed. I am onsite most of the time Monday-Saturday, and would be happy to book people in for any of those days. We have a list as long as your arm of jobs to do, covering a wide range of skills, so do give us a ring, although as ever only members can volunteer.
Wednesday saw three of our regulars- Toby, Whisk and John H- hard at work moving rail and heavy machinery into more appropriate locations, and ensuring the Manx coach remains weathertight after the high winds experienced a month or so ago. John H, for his part, was fitting additional shelving into the little bookshop cabin at the bottom of the site, as it currently contains more books than shelf space. Sadly, I have no photographs of Wednesday, which failure is entirely my own. My role in the Blogosphere being as accidental as my current tenure at Steamworks, I don't seem to have got into the swing of it yet..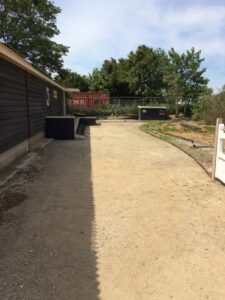 For my own part, I spent Tuesday morning weeding the cleared area outside the Shop and Café. It put me in mind of military 'fatigues', hence the post title, and certainly doing it in Tuesday's hot sun it was indeed fatiguing. Necessary though, as the weed membrane was delivered Monday afternoon, and needed to be put down so that the gravel, which will eventually cover the area, could be ordered. Hopefully it will look quite smart when done, and do much to 'enhance the visitor experience' as they say in the tourism industry. A pity we don't have any visitors..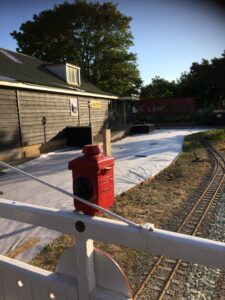 Oliver
Weeding the parade ground