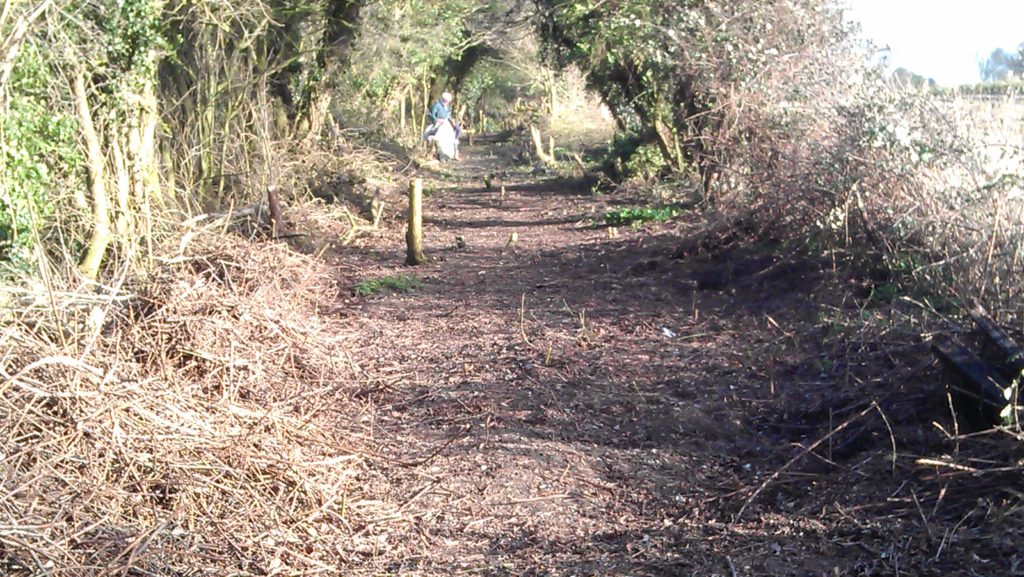 Serious efforts at Wenhaston in the last week before the nesting season stops tree work have resulted in the Wenhaston Environmental Volunteers achieving what we set out to do – when we started onsite in October 2013.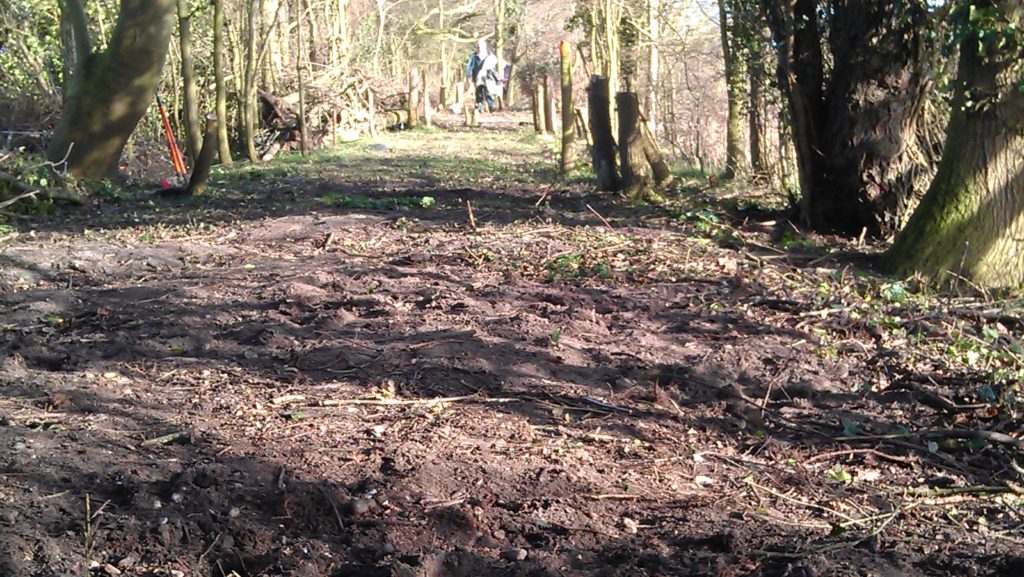 With the exception of some large live specimen trees which we have decided to leave in place, and a couple of areas where the dead or moribund trees are so large as to defy hand sawing (but do not block the path), we have cleared not only a quarter of a mile of trackbed as well as the station site, but also opened the access between the trackbed and accommodation crossing 21 northern gateway, ready for re-instatement.
We have a specimen wildlife refuge close to crossing 21, carefully woven together in place by Toby and Bob so that it not only won't get blown down, but will also provide habitat for birds, mammals, insects, fungi, and mosses. This will be reproduced in three or four places along the wooded strip, away from the trackbed and future access footpath.
The Trust would like to thank everyone who has helped us reach this important point. We hope that all our current volunteers – and some new ones – will be able to come to Wenhaston on our scheduled workdays in spring, and enjoy the less frenetic, but just as essential, efforts to remove stumps, separate branches from fallen trees, mark chainage, survey, and cut up the logs.
We will now return to where we started, at the west end of the trackbed, to begin there on producing an attractive, safe and good-looking pathway for our members – and invited visitors – to appreciate. A trial section at the west end of the wood, on Wednesday February 26th, saw about a chain of trackbed cleared of stumps: some of these, though long dead, defied our best efforts for a good 45 minutes, but ultimately succumbed.
The spring and early summer will see us clearing and furbishing (is there such a word?) the entire trackbed, and we hope that funding will come in (as a result of the Editor's plea in the Trust newsletter) so that we can start to rebuild the classic SR post and rail fencing along this stretch.