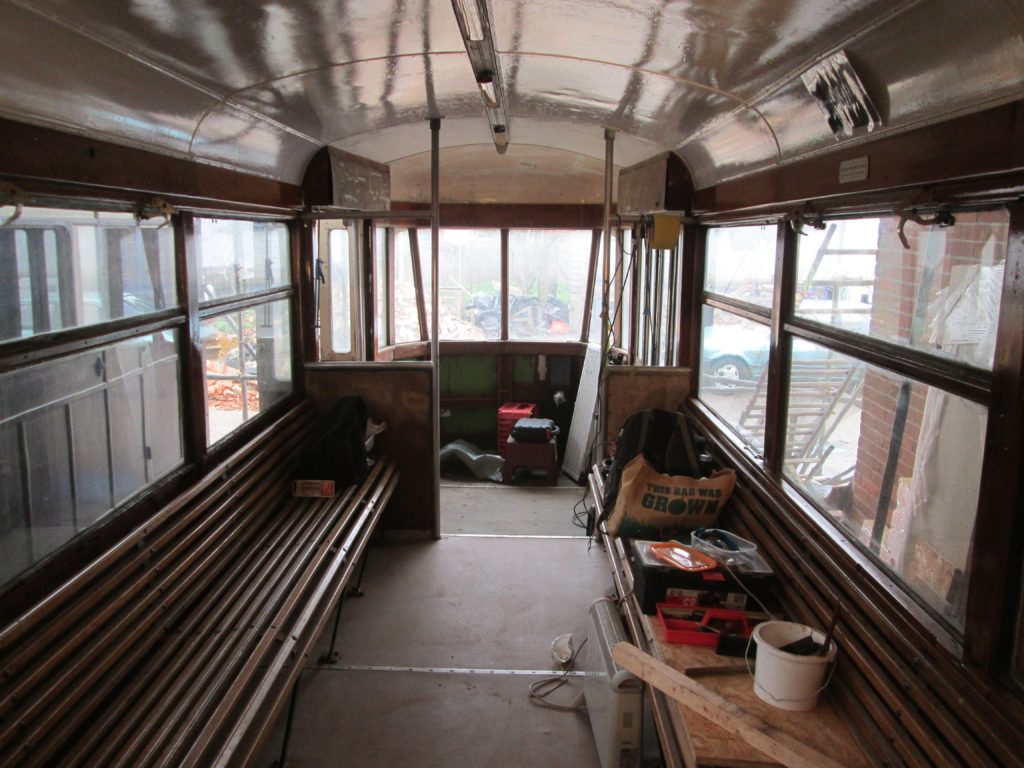 On Saturday March 1st, the SR volunteers ticked off a job which has been worked on, on and off, for some months. The steel frame of the coach sides having previously been treated for rust and painted, the new treated ply panelling, together with the refurbished original hardwood capping, was completed in the saloon of Coach 7. Bernie's careful measurement and design, and Toby's sanding down and revarnishing of the trim, meant that the job, though a little cramped, was completed in the 7½-hour working day. The sheets had to be fed, with extreme care, down the back of the longitudinal seats, and supported, so that they could be screwed on, and the various pieces of capping and facing trim fitted.
As the coach, when a tram, originally had "two-and-one" seats, but was later converted to longitudinal seating, all the visible timber had been adapted, with the result that nothing fitted easily, and some parts required a bit of persuasion.
But the only real glitch was at the end of the day, when someone who shall be nameless (OK, it was your blog writer) managed to drop a clamp down behind the panelling: this meant removing the entire sheet and fittings (and it was an awkward, corner, one). Then it wouldn't go back in. Which meant loosening the next sheet, thus destroying the relationship with the capping. And so on. You can imagine. I shall draw a veil over the language.
Meanwhile, Bob spent the day sanding down the loose paint on the Southwold end ceiling – after several hours holding the palm sander at head height, he was glad when the day ended, and will doubtless feel it for a day or two. But the entire ceiling in that end is now ready for filler, primer, two undercoats, and topcoat.
Terry – above and beyond the call of duty – spent the day in a cold workshop (occasionally invited into the heated coach for consolatory tea and doughnuts), doing the complex carpentry to enable the second (timber) solebar to fit around, over and into the steel underframe of SR Van 40.
We even tidied the workshop and coach, and sharpened an axe and a spade for stumping work at Wenhaston.
Our longest day so far, but productive.
Rolling Stock Group – some satisfying achievements