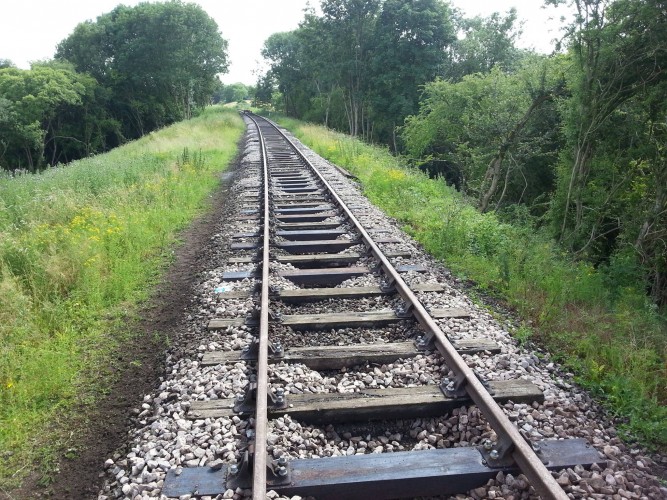 Background: the SRT's unusual railway fencing style used four-yard timber rails, which can only be found in Galloway. The Chairman's cunning plan was to include a couple of railway-related stops on his way to collect the timber – he feels that conventional holidays cannot be justified with so much to do at the SRT, but the occasional visit to other heritage railways on the way to a pick-up is legitimate research!
Day One: the Chairman doesn't have a car (well – not one that works) – so after a very early start, three buses, and two-and-a-half hours, he arrived at a very helpful Barfords of Norwich to collect a Mercedes sprinter pick-up, and drove merrily off in the direction of the Midlands. It's perhaps worth saying here that his sense of direction is non-existent, so, without a sat-nav, he was dependent on paper maps. So the Merc basically went where it wished, particularly in towns, where there's even less opportunity to consult en route. However, a happy accident put Dereham in the way (almost literally), with a rare opportunity to ride to the Mid-Norfolk's head of rail at Hoe. Further west, Leicester Ring Road turned out to be a myth (although perhaps negotiating three or four schools at leaving time in a wide and long truck with a really-long rear overhang is designed to be a lesson in humility). The first Travelodge (yes, I know, but they are cheap!) successfully concealed itself until it became obvious that the endless series of accommodation-free industrial estates were actually in Hinckley, not Tamworth.
Day Two: the Statford Barn Open Day at the Hunslet Steam Co. was just unbelievable – in no other place on earth can so many rare narrow gauge locomotives be seen working together: then, in the roundhouse, you find another twenty-or-so waiting for restoration. A genuine railway feast: perfectly organised, and beautifully presented – engineering at its best. And you should see the machine shops!  Many old friends were there – the event is invitation-only, so it's an ideal opportunity to catch up with other people in the trade. Strange moment, later, at Newcastle (no – not that one – Under Lyme) – where to leave the pick-up overnight: in the commercial car park it is dominated by gigantic artics, and wastes a perfectly good HGV space – but in the car park, it uses almost two places, and is very hard indeed to get in and out. There's no solution to this, really.
Day Three: Stoke-on-Trent only allows through-travel north and south: try to cross east and west and you get an interminable series of closed factories and shopping malls. Still – nice scenery further east – and a cracking run on the Churnet Valley line to Ipstones, hauled with much sound and fury by a massive TKh loco, No. 2944. All two-cylinder locos box* (apparently the Southwold 2-4-0s were particularly bad) – and so did this one (it has a similarly-short wheelbase) – the cylinder covers missed the platform edges by almost half an inch at Froghall. It's probably a good thing that narrow gauge railways like the SR have very low platforms. The Churnet is a railway with a great future – with both Leek and Alton Towers within (eventual) reach.
A long run up the M6 to Dumfries – where the cash machine disgorged Clydesdale bank notes – a reminder, if one was needed, that this could well be a trip requiring a passport in a few years.
Day Four: Galloway was as glamorous as always, and a pleasant trip through towns made famous by Dorothy Sayers ("Five Red Herrings") ended on an abandoned airfield where Penkiln Timber – efficient as ever – loaded a tonne-and-a-bit of timber with millimetric precision. The Trust will now be able to restore another 6 chains-worth of traditional fencing along the trackbed at Wenhaston. Sadly, some fence rails had to be left, so as not to overload the pick-up (however tempting it might be!) – so that's another trip to Scotland to be organised, with more timber to be ordered to make the journey worthwhile. The SR always needs more timber, luckily – endless fencing, and perhaps not too far away – sleepers?
Day Five: despite the constant digging-up of the A1, a 217-mile journey from Carlisle to Long Sutton was surprisingly easy – apart from the silly reliance on a postcode for the accommodation – it's not easy to turn in a single-track road, with deep dykes on each side! Much of the evening was spent worrying about the awful weather forecast for "unloading day" on Wednesday.
Not that rain is anything to consider compared to the SR's needs (the Chairman lived for many years in North Wales – compared with which Suffolk is a desert) – but the access roadway for timber delivery gets difficult (gloopy is the only way it can be described) in the wet, producing visions of a practically brand-new hired pick-up irretrievably stuck – and irretrievably filthy.
Day Six: in the event, Wenhaston was dryish (at least in the morning), and a well-organised and capable team first lightened the pick-up by removing two thirds of the load (carried on to the nearest we can get to the trackbed by Sean in his own pick-up), and then watched while the big Mercedes was gingerly driven over soggy paths to the same place.
After that, it was just a matter of man-handling the timber through the oak grove (which blocks the end of the trackbed to vehicle access), and stacking it (very neatly) ready for use. Then the team made a recce of the work still to be done along the ditch – a bit daunting, really, particularly if we are rained off on more workdays – enjoyed a saunter along the trackbed itself, and dispersed. Parking the Merc. in Southwold was as difficult as one might expect.
Day Seven: the pick-up goes back to Norwich, after a thorough clean and brush-out at the workshop: it's ideal for the job, and we will have it again. *"boxing" is the side-to-side movement of a loco, caused by the alternate forces from the cylinders
The Chairman's Scottish Oddessey