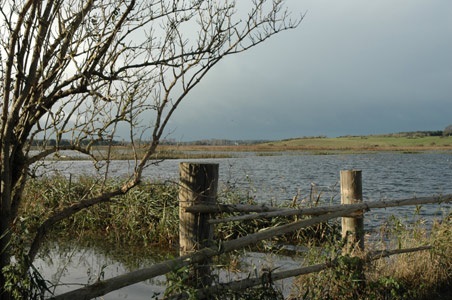 Over the last week or so, with the spring tides and extra rainfall, the upper Blyth Valley has been flooded in several places. This is a pretty regular occurrence. However, despite the erroneous assertions from the increasingly-desperate opposition, the SRT's trackbed section at Wenhaston did not flood – and in fact has not flooded within living memory. The railway, in 1879, was built as a contour line (very similar to the Lynton and Barnstaple), and through much of the valley it provides a boundary between the floodable water meadows close to the river, and land which can be tilled. In quite a few cases, the railway embankment itself forms a useful flood barrier. Thus the existence of this historic railway trackbed benefits agriculture in the valley. Blessed as the Trust is by increasing numbers of practical volunteers (not everyone hates our charity, despite appearances!), we can now often divide the team into workshop and land work. This was done on Wednesday December 9th, after our now-almost-compulsory visit to the Wenhaston Community Café, which we support because it benefits the village.
One team sorted out most of our new Blyth Valley rolling stock workshop – we are anxious to get this in usable condition so we can get on with our major projects for 2016: to complete Peter Nicholson's Motor Rail locomotive, and – ideally – also to complete open coal wagon No. 41. Meanwhile, our Environmental team braved the mud and wet on our land at Blyford Lane, and made an enormous impression on the long list of jobs that have to be done before the birds' nesting season starts on March 1st. The parking area for next year's events, alongside Blyford Lane, is cleared and strimmed – so we can now see which sections need hardening. Access areas for the stock fencing contractors are being cleared. The trackbed section to the east of our site is being cleared for the visit of the planning Inspector – recent storms have brought down more dead elm (often quite hard to distinguish from live trees, when heavily ivy-covered and entangled with other trees), and these are being removed. Large amounts of scrub and bramble, removed from our new northern boundary, were disposed of.
Trust volunteers' stewardship of this site is an endless process – but we are happy to do it, as a demonstration of our ability properly to look after the land, as we begin to widen our horizons into a more active interest in the entire railway between Halesworth and Southwold – which is, after all, our remit as a Charity.
The Blyth Valley floods – but not the railway. More volunteers join us.