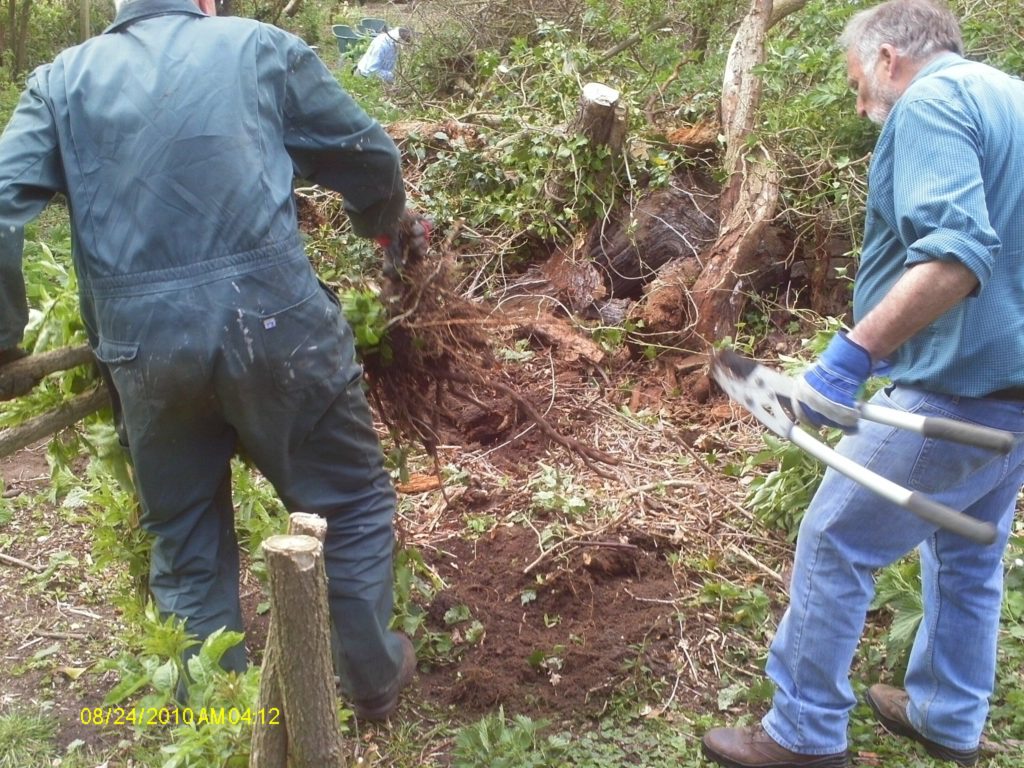 Six Trust volunteers – including for the first time new team members Keith and Linda, enjoyed the ambience of the Wenhaston woodland today – and (I think) enjoyed the clearance as well.
Our new volunteers are railway people, which always helps: they got well stuck in to the branch clearance and stump removal, which is now down to a fine (though dirty and arduous) art. The vegetation – now the trackbed has opened up – is growing faster than ever, which is a sign that the poor ecology we inherited is beginning to right itself.
John continued to clear brambles and timber from the trackbed, while Toby moved a lot of the remaining felled trees along the southern boundary. Bob, Keith and Linda made a noticeable difference to the trackbed near the driftway crossing, as well as extending the de-stumped area from the west.
James managed to skive off most of the heavy work, and marked where the first section of SR post-and-rail fencing will be re-instated: as trees have grown along the old fence line, the new fence will have to thread its way through them, as we have no wish to fell any live, good quality, trees.
Six panels at twelve feet per panel are marked, and will be built as a sample installation, to see how easy (or difficult) it's going to be (probably the latter).


Lying around on the ground along the fence line is quite a bit of original timber rail – we retrieved these lengths, and they will return to the workshop to be dried out, and then jointed into twelve foot lengths. We now have samples of all three wood types – posts, rails and "droppers" – so reproduction can be done – we hope that there will be enough original timber which is savable, to allow at least one panel to be entirely original – luckily we do have several posts, in situ, in good condition.
Stumping, clearance and fence marking