'Street Jewellery' is the name given to the colourful and now highly collectable advertising signs made from vitreous enamel. If you don't believe me, look it up. I confess I'd never heard the term until it was used by Dick Joice on an old Bygones episode I found online- this last may not mean much to anyone who lived outside the old Anglia TV region in the late 70's and early 80's- and is also the title of an entire book on the subject.
 The reason it's also the title of this blog post is because these old advertising signs are ubiquitous on preserved steam railways, so evocative are they of the era (late 19th- early 20th century) to which they belong, and so enduring that they continued on well into living memory, giving a big nostalgia kick to those who remember Lux (won't shrink woollens) soap flakes or Craven A (specially formulated to prevent sore throats, apparently) cigarettes. In fact, fags, tea and soap, in that order, seem to have been the most prolifically advertised products of the era.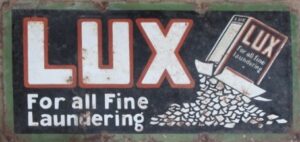 The problem with these old signs, once used to patch up allotment sheds and generally disregarded, is that they are now so expensive, being sought after collectables . In fact, in January this year, 24 signs were stolen from MacAlpine's private railway, being now valuable enough to be worth stealing.
 I thought we could do with a few more down Blyth Road to add to the railway flavour, and not being able to justify the cost of originals, yet not being sufficiently dishonest to steal them, I thought new ones might be a more viable option. Reproductions are available, but not terribly satisfying, so the next step was to have some printed. Having found an online company who could do the job at a very reasonable cost, I created a couple of images on the computer, starting with an original photo as the basis.
 The first order, as a kind of test, was a set of six narrow signs for Mazawattee Tea. This once famous but now largely forgotten brand was a prolific advertiser on the railways, and is a favourite of mine simply because it used to be our family firm from 1887 right up until it closed its doors during the war. Even better, their adverts were simple duo-tone designs and simple to reproduce.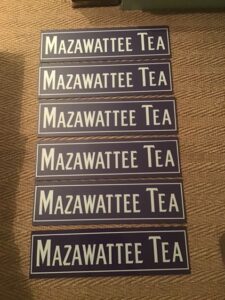 In the event, they came out very well- the printer's finish is a sort of matte, but the colour and definition is good, and after a heavy coat of clear acrylic they look rather convincing. Buoyed up by that success, I created a few more image files for further adverts, and this evening 'VIROL' turned up on my doorstep.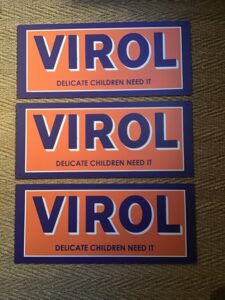 Basically an extract of malt brand, it claimed wonderful things on a series of adverts. The ones I produced claim that 'DELICATE CHILDREN NEED IT', a fact I'm sure the delicate children would robustly deny, whereas the more general 'SCHOOL CHILDREN NEED IT' seemed somehow less plausible and less entertaining. I avoided my personal favourite as skating on slightly thinner ice- 'ANAEMIC GIRLS NEED IT', which they have on a platform on the Bluebell Railway.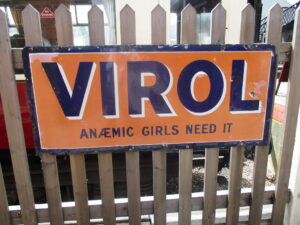 All this reminded me of a conversation I had with two visitors to Southwold who came into the office last year to ask about the railway. It turned out Stephen Atkinson and his wife Pat have built an impressively neat and complete garden railway, modelling all the buildings themselves from scratch, including- and here's the connection- all the enamel advertising signs. They do in miniature exactly what I've been doing in full size. Stephen has a YouTube channel featuring their railway, and it's worth a look.
Keep an eye out for any Mazawattee signs- after our conversation, they assured me they would be producing some..
Oliver