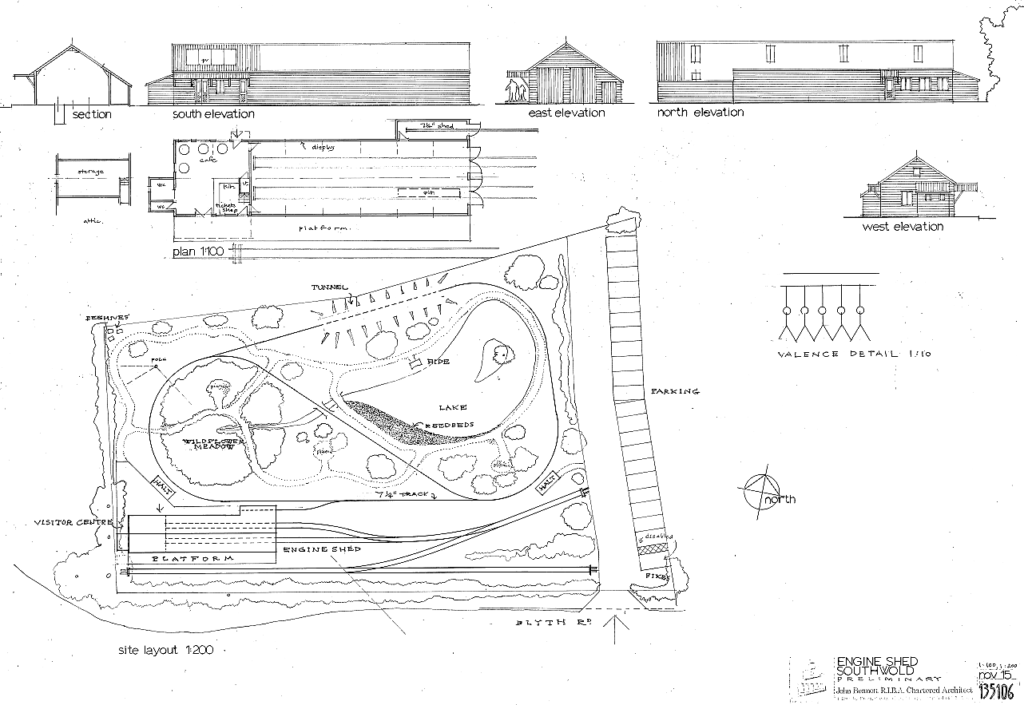 While the Trust awaits the decision on our Appeal at Wenhaston, we have not ignored the rest of the Blyth Valley. Application has been made with Waveney District Council for a workshop, visitor centre, skills centre, demonstration track, and a nature reserve with a 7¼" gauge railway to access it. Click on this link Blyth Road application to see a hi-res version of the plan. The site is ex-industrial brownfield land at Blyth Road, very close to the original trackbed, a few hundred yards from Southwold Station.
Again, the Trust needs your support. We need a home of our own, where we can build the Heritage Train without annoying any neighbours (there aren't any!), test it, and meanwhile operate a small tourist attraction, particularly appealing to families with young children. Blyth Road is well-used by walkers and cyclists, so such a facility should be popular.
One of the many advantages of this project (apart from the obvious one of being in Southwold) is that it is affordable – most of it can be built by our own volunteers. Thus it will not detract from our larger plans at Wenhaston and elsewhere. It is a small thing – but our own!
Please express your support to Waveney District Council, quoting reference DC/16/0442/FUL (you will need to register first). This must be done by March 10th, as consultation ends then. We think we have a very good chance of succeeding here – especially if we manage to gain a good deal of support from all our readers. The usual suspects are making the usual fuss, of course – reasoned arguments from our readers will tell against uninformed hysteria. We cannot repeat too often that the opposition have no evidence that any heritage railway has ever damaged any environment – because there is no such evidence.
Please note that – although many railway enthusiasts will wish to put this scheme into the context of plans to rebuild the railway, it is a stand-alone plan – SRT have not planned or published any other plans to the east of Wenhaston. So expressions of support should be for this project alone, as it stands: no support for anything else can be accepted by WDC – for or against.
Please support us now – don't wait. Thanks.
SRT Applies for permission to build a Workshop, Visitor Centre and Small Nature Reserve in Southwold