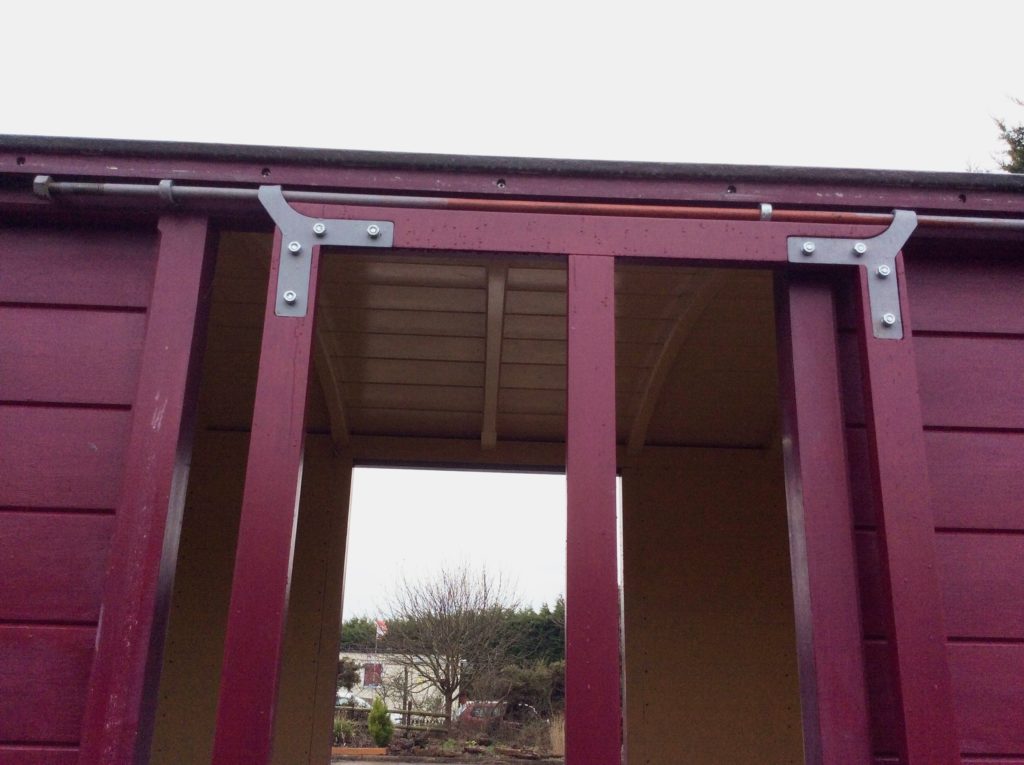 The two most advanced elements of the SR Heritage Train (disregarding for the moment the Van 13 grounded body – which may eventually itself be wheeled) are now moving on quickly.
At the SOLD (Special Objectives for Local Disabled) workshop in Lowestoft, Covered Van 40 is having its sliding doors added – the last major job. These have been a very complex project, with several visits to the (very helpful) East Anglia Transport Museum's original van to work out how it all fitted together, then lots of blacksmith-type work by Peggs of Aldeburgh, to provide the tracks, wheels, guides, etc. Between us we are re-discovering classic nineteenth-century technology, not perhaps much changed from the farm carts and coaches that preceded the railways. SOLD have had to hang, remove, and re-hang the doors, but are now approaching the final hanging.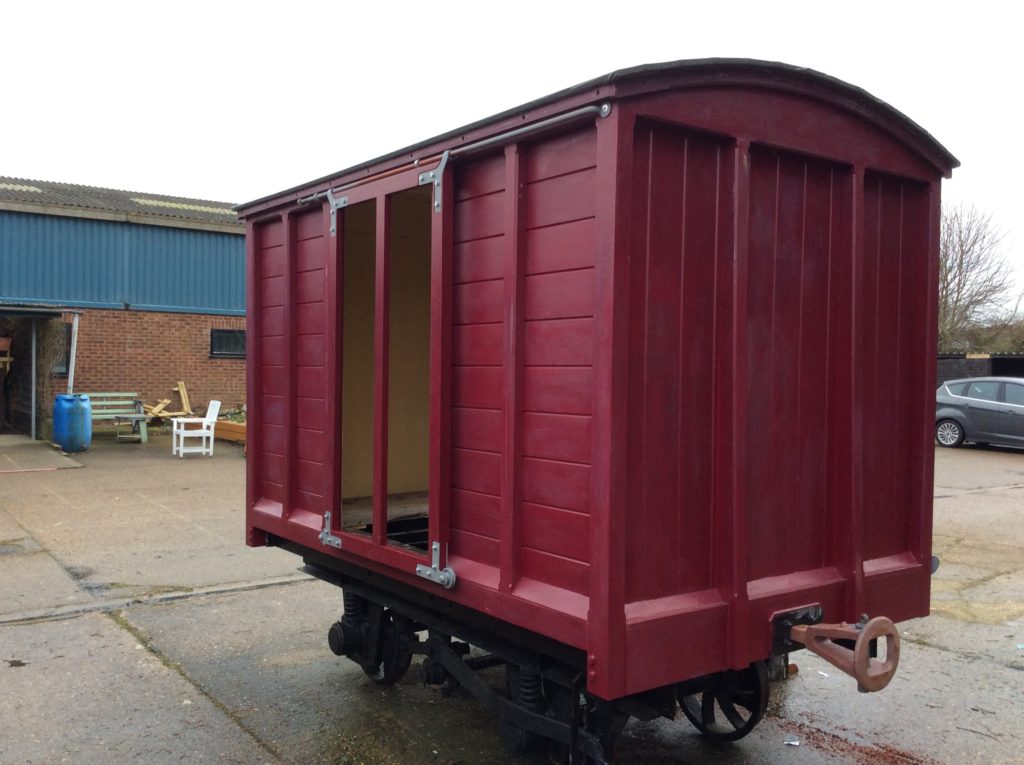 Then it's a matter of lots of paint and rubbing down, followed by the SR and 40 lettering. Trust volunteers will be fitting some purely cosmetic parts (corner brackets, lamp brackets (one original!), entrance protective steel plates, and so on). It will doubtless be said that the underframe is not as the original (coil springs, not leaf), but basing this replica on a 1950s underframe, which we know is of good quality, ensures that this wagon can take its place on the SR mixed train: it will have to be maintained and inspected like a passenger vehicle.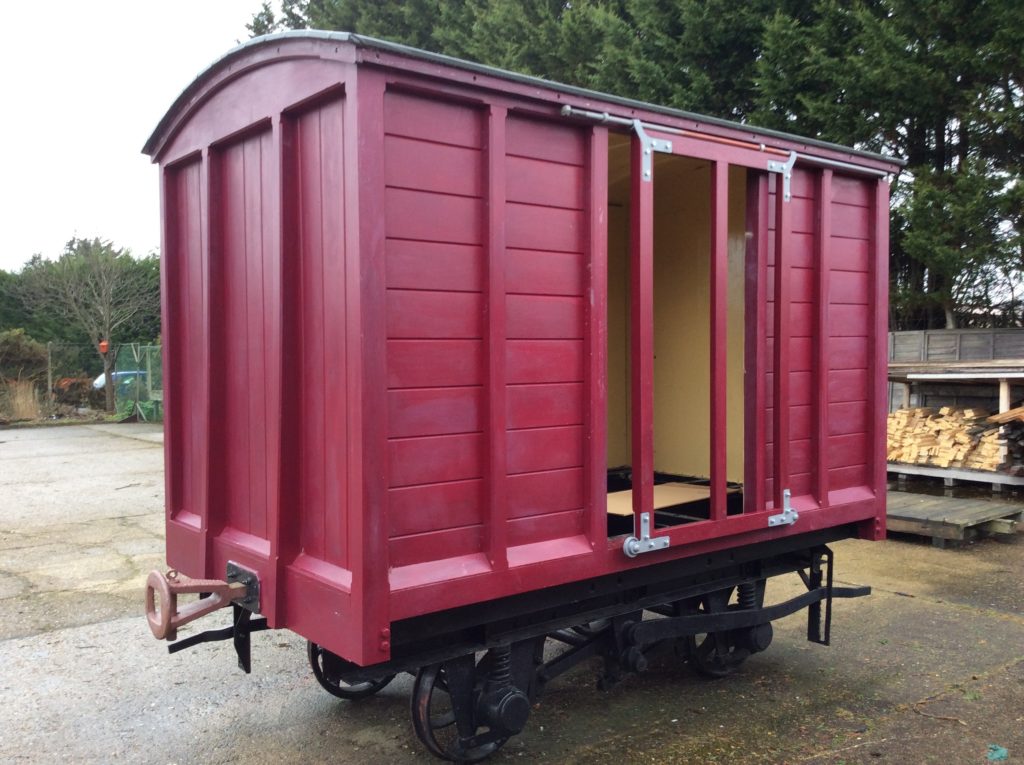 Many other heritage railways have re-gauged Royal Naval underframes (though none, as far as we know, outwards, from 2'6" to 3' gauge!), and some have built successful passenger coaches onto them (which is something we might also consider in the future). SRT would like to thank Peggs and SOLD for all their hard work on this project.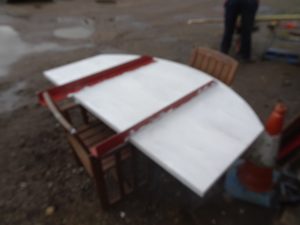 Meanwhile, Trust volunteers have been erecting the body ends of Open Wagon 41: one end is complete, while the other should join it on Wednesday. At the same time, a small amount of additional welding will allow the floor and ends to be fitted permanently. We hope to receive the hinges and other fittings soon: their arrival will necessitate drilling another 40-or-so holes (the Chairman is beginning to dream about hole-cutters), and the basic body will be complete. Various cosmetic timber and steel additions will then go on, followed by painting and lettering.
There is no reason why these two wagons cannot be complete by summer 2017. Then the team can have a look at where to go next, although we will have depleted most of the available funding by then. It is quite possible that, when Peckett "Scaldwell" arrives, many will move over to thatproject – but we hope to keep up momentum on the Heritage Train as well. SR Balcony Brake Composite Coach 8 will probably have to wait until we have more physical space (and of course a lot more funding): it'll be the largest project we have yet tackled. And of course Sharp Stewart "Blyth" is far from off the agenda.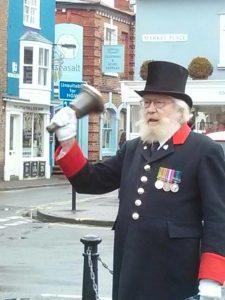 In other news, long-term Trust volunteer John Barber retired from his "other job" as Town Crier of Southwold on Saturday, so the team supported him on his last round of the town, followed by a welcome visit to the Sole Bay Inn, outside which John's last "Cry" happened to takeplace. This last day was in aid of the Lifeboat Museum and its planned extension: nice to see another heritage organisation, like SRT, being promoted (we got a mention as well). John is a genius with bonfires, and is a highly-skilled carpenter – but luckily for us, he is not retiring from the Trust (as he can't wait to see narrow-gauge trains again running in the Blyth Valley).
Progress on the Heritage Train, and a Retirement