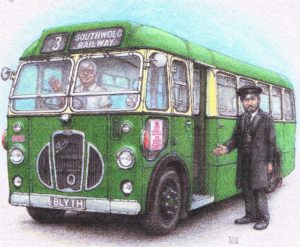 In response to the tremendous success of this year's Southwold Railway Tours, the Trust will be running Vintage Bus Tours on the following dates in 2104 (all Thursdays or Bank Holidays):
March 13th, 27th
April 10th, 21st (BH)
May 5th (BH), 15th, 26th (BH)
June 5th, 12th, 19th, 26th
July 3rd, 10th, 17th, 24th, 31st
August 7th, 14th, 21st, 25th (BH), 28th
September 11th, 25th
October 9th, 23rd
1950s Bristol bus "Olive" will take you on an entertaining and instructive all-day trip to see the industrial archaeology of the Southwold Railway, including the station sites and trackbed, as well as the Halesworth Millennium Green and the Blyth Valley pastures where we plan to re-construct Wenhaston Station as it was until closure in 1929. There is some walking, but this is optional. At lunchtime you can bring your own picnic, or have our "Wind in the Willows" picnic lunch at the Wenhaston Star (extra cost). The Tour ends with a workshop visit, and a short film show at the iconic Electric Picture Palace, Southwold.
We will pick you up at our Southwold shop at 10.15, or at Halesworth station at 11.15: set down at about 17.00 at Southwold and 17.20 in Halesworth.
Tickets are £19.00 each (optional picnic lunch £6 extra), and can be booked by phoning our dedicated line, 07972 013804, or visiting our shop at 27 High Street Southwold, on Saturdays between 10.00 and 16.00. Credit and debit cards are accepted.
More Southwold Railway Tours in 2014