..Although on balance, we'd rather she didn't. The old jokes are so rarely the best..
It's been quite busy down at Steamworks over the last few weeks, perhaps encouraged by the far more clement weather we'd been having, although that now seems to have petered out again- maybe that was summer. Whatever the cause, it's been gratifying to see higher numbers of volunteers recently, with a number of familiar faces making a welcome return now that things seem to be approaching some variant of normalcy.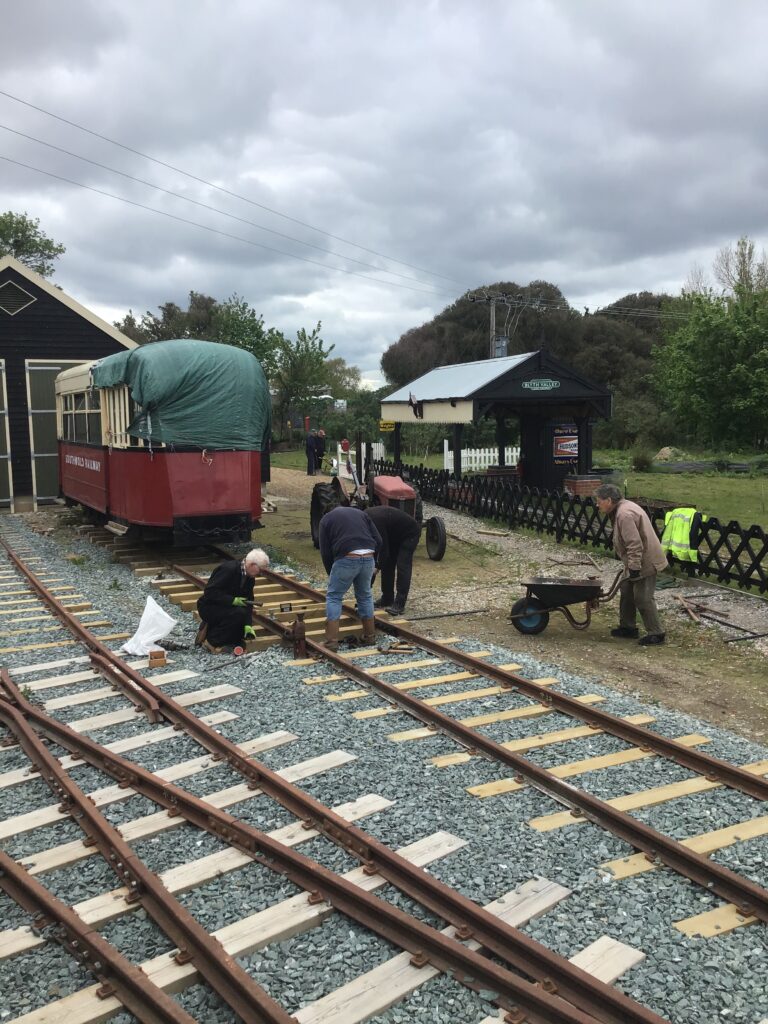 So busy has it been, in fact, that there's a bit of catching up to do blog-wise. Above is a picture of further track laying taking place to complete the bits the contractor's weren't able to do. Since the above photograph was taken the tram has been moved in an operation that will be featured in a future post, once I've convinced my laptop to process all the video I took without crashing.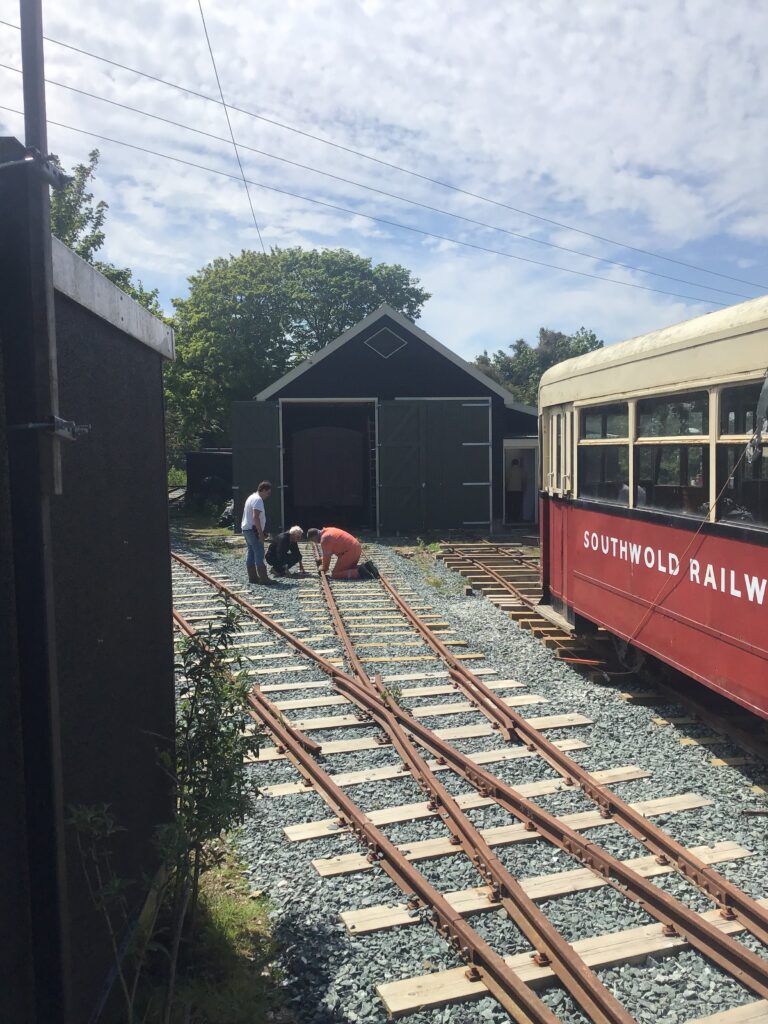 This permanent way work has been greatly expedited by the arrival of a new volunteer at Blyth Road, this being Andrew, who has permanent way experience and is pictured to the left in the photo above.  It makes a huge difference having someone with practical experience to direct matters.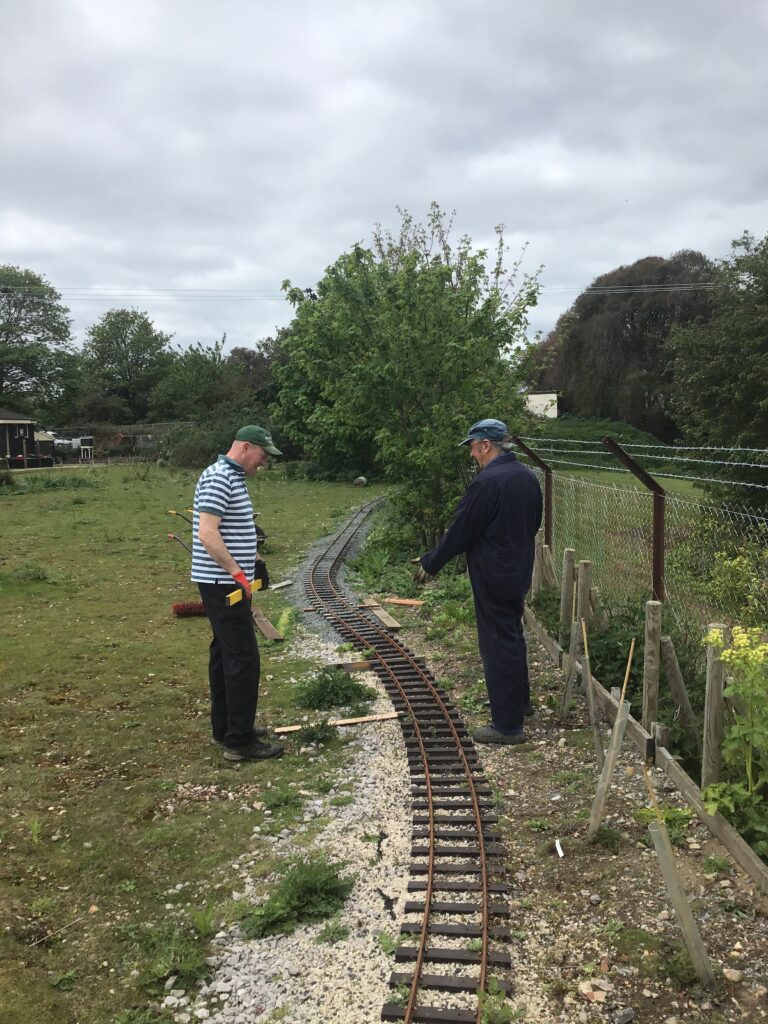 On the smaller scale, Ian Overton, John Handley, Brian Bailey and Malcom Smith have now completed the re-ballasting of the BVLR, ironing out some of the more punishing gradients as they went. Ian here is seen masterfully gesturing whilst Malcom contemplates where to put his spirit-level.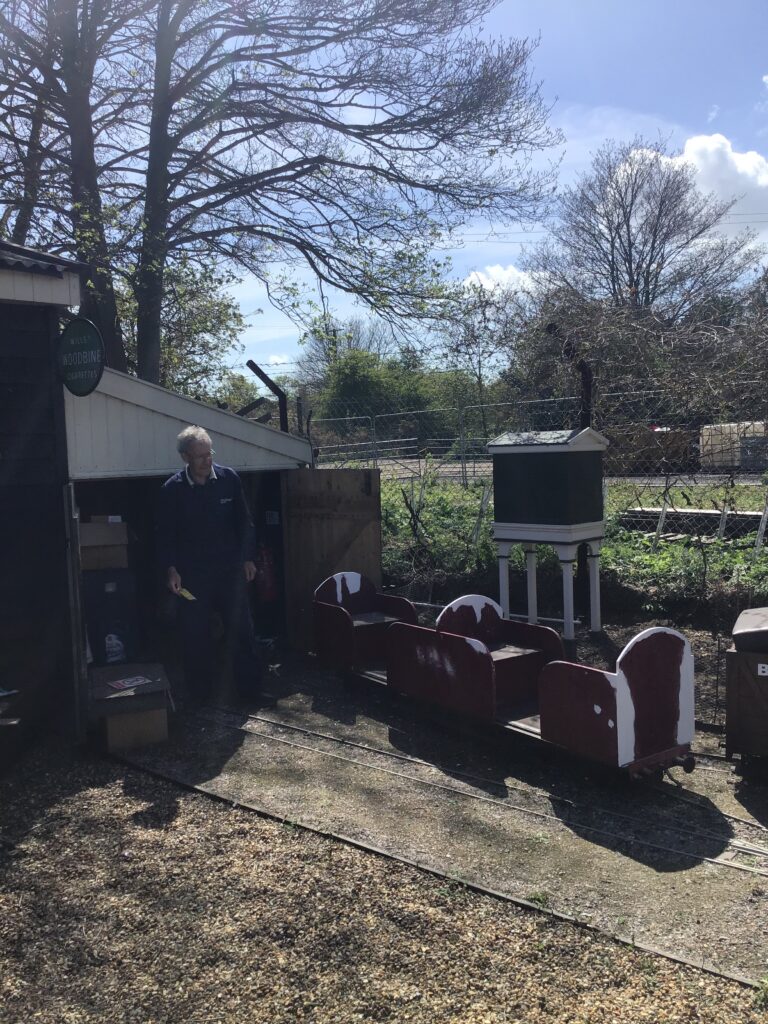 We had a welcome visit from Keith and Linda Parrot last month as well, Keith turning his attentions to the BVLR coach, which after a few years' sterling service was beginning to look a little tatty. Thanks to his ministrations and a new set of transfers, it's looking much smarter for our forthcoming opening.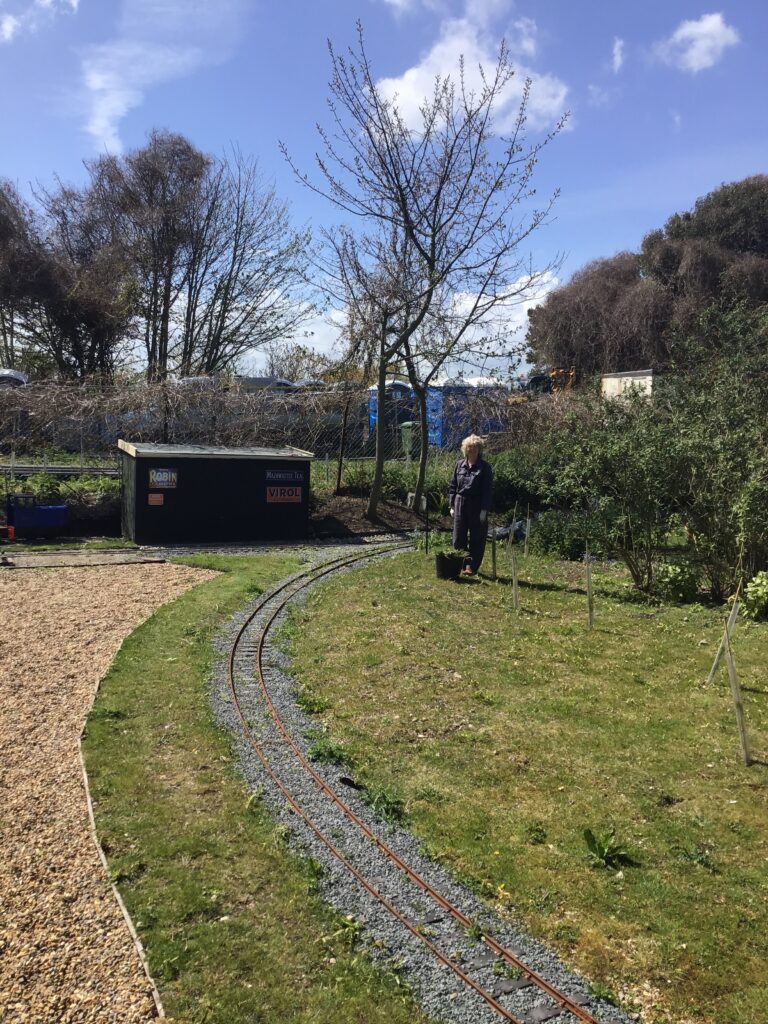 Linda, meanwhile, carried out some much-needed work in the horticultural department, putting plants where there were no plants and removing plants from places they simply shouldn't be, such as the middle of the miniature railway. The beds now look a lot better, although with the sunshine and torrential rain we've had recently, the weeds seem to thrive more than anything else.
Something else that appears to be thriving is North Bay Engineering. Some of our board members paid a visit to Darlington on the 19th of May to see how thing were progressing with Blyth, to which the answer seems to be 'very well', to judge from the photos above. As can be seen, the tanks are now in place, and in fact have since received a coat of primer;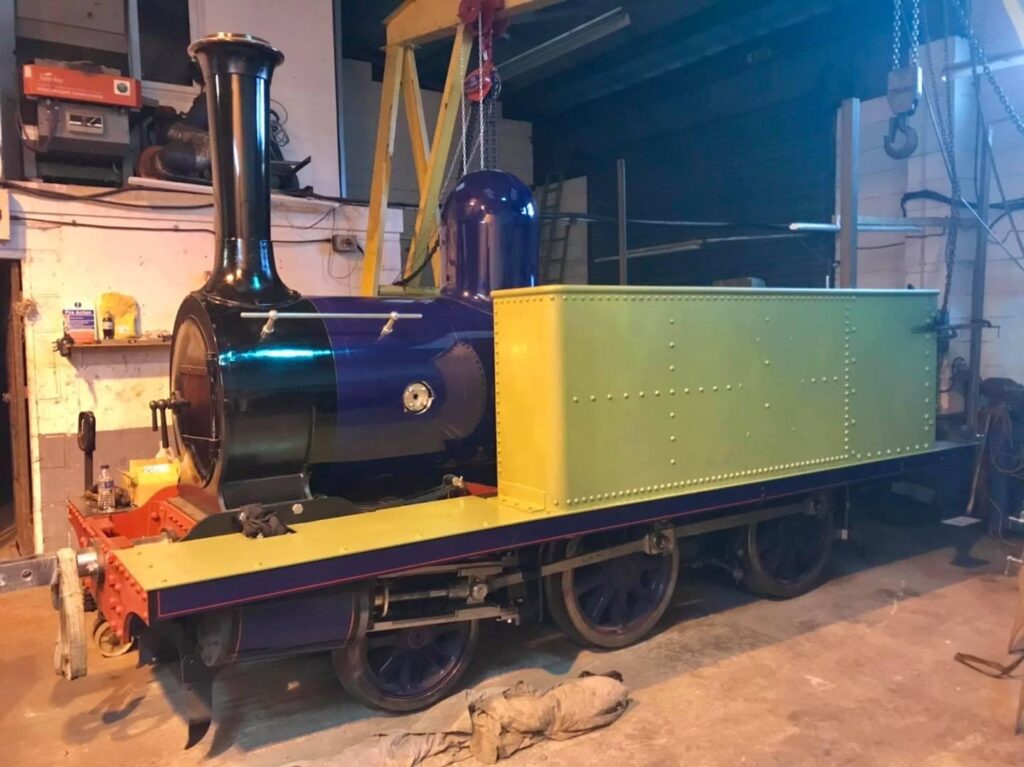 ..not forgetting to mention the fabrication of the cab sheets, which puts us not that far from having a complete locomotive.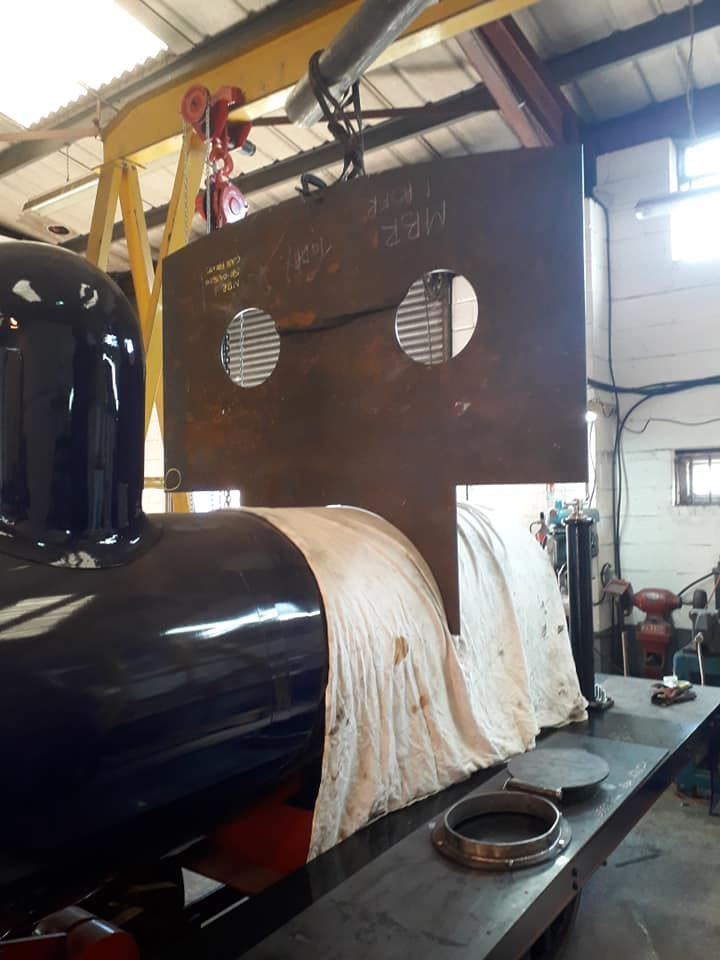 Work has simultaneously been progressing on the plumbing and fitting-out of the loco, with the steam manifold in the smoke box being fabricated and the back head fittings beginning to appear.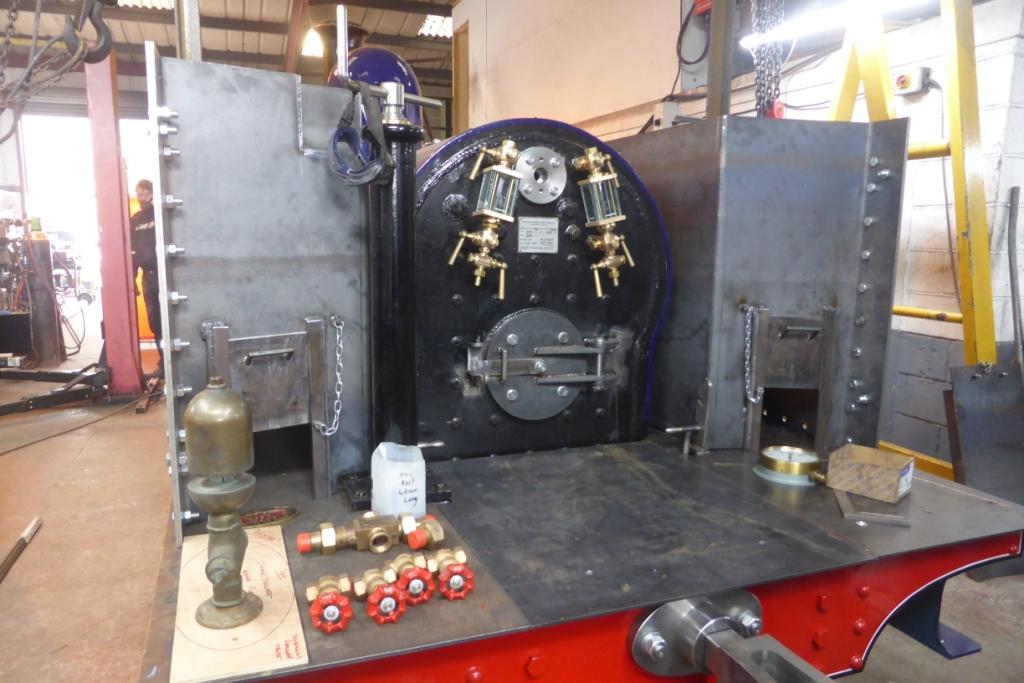 All in all, it's looking very like we will, as promised, have a complete locomotive on site before the end of this year. As ever, though, we are dependent on fundraising to pay for it, and this relies ultimately on the donations we receive from both members and the general public. We have been lucky in that people do not seem to have forgotten about us during the last turbulent year-and-a-half, and the interest in our activities that I've come across in conversations with the public have been most gratifying. If you'd like to help us in the last 'big push' to bring Blyth home, then please do contact us through the usual channels, all of which are published on this website.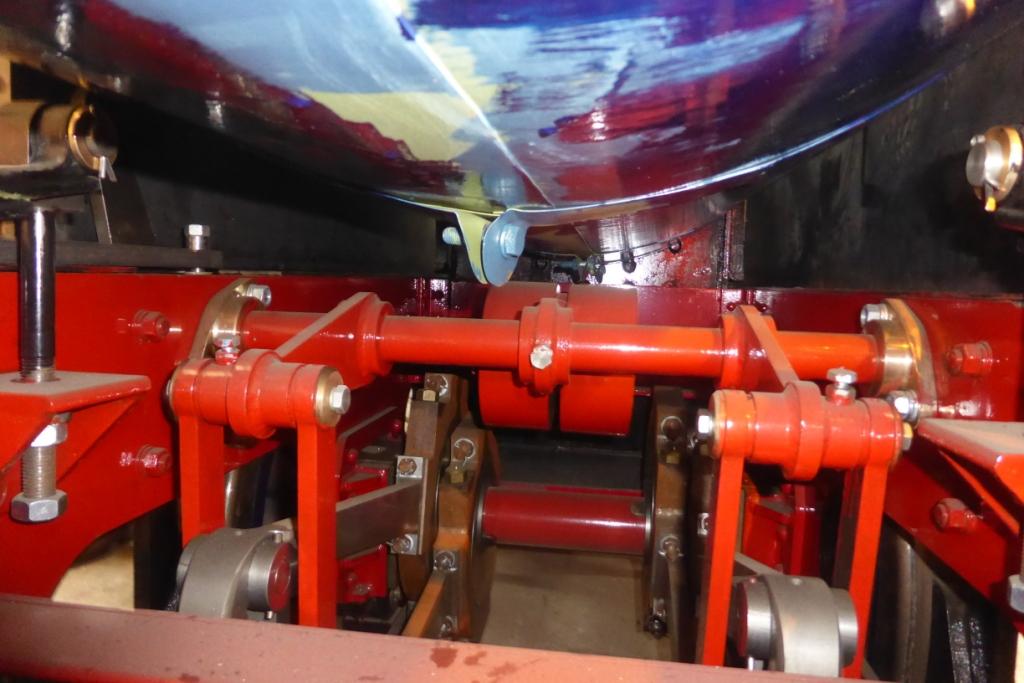 On the same topic, something I found interesting recently was looking back at the number of 'hits' the blog posts get, a number which has increased rather pleasingly over time. In broad terms, a post (even one of mine!) will get well over 1,000 views within a day or two of being published, which is really encouraging for us, especially at a time when our engagement with the public is necessarily limited.
What is even more satisfying is that we have about 500-odd members (not, I hasten to point out, 500 odd members), which means that there are an awful lot of non-members reading this, too. If you are one such non-member, then we'd be delighted to welcome you into the fold, so to speak. I mean, look at all the excitement you're missing out on..
Oliver
June is bustin' out all over..