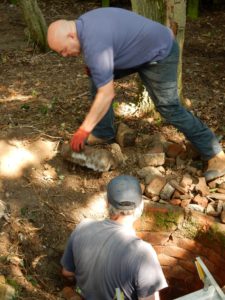 On Saturday August 22nd, and Sunday 23rd, Trust volunteers spent some more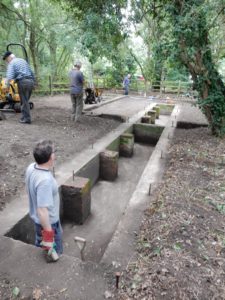 time at Halesworth Bird's Folly (courtesy of the Millennium Green Trustees), enjoying a third day of work on the locomotive shed area. After digging out the inspection and ash pits, we had several tonnes of soil to get rid of – so we hired a small digger from our good friends Harfords of Norwich. John H kindly took delivery of this on Friday, drove it (at 2kph!) down the access roadway, and managed to squeeze it through the gate (just). A combined team from the Millennium Green and the SRT (plus a new volunteer, Robin) spent the weekend onsite: by the end of Sunday, the entire shed base area was clear and tidy, and one side of the ash pit also (the other side is inaccessible because of a very large tree). James as usual hogged the digger most of the time, and Sean's ultra-small dumper was kept extremely busy – one can only admire his fortitude in driving (well, manhandling, really) this machine, which is very physically demanding.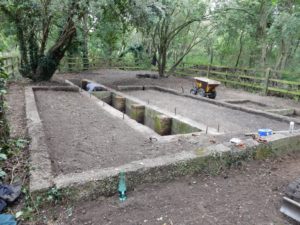 While all this heavy earth-moving was going on, a defter team, led by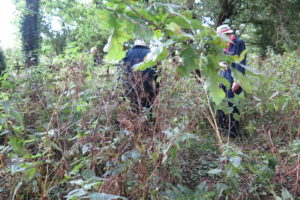 Stewart, was gradually digging down inside the well: so much miscellaneous stuff has been thrown there over the years that the soil all has to be sieved for artefacts. Many shards of pottery – some very fine – were found, plus sections of the chain pump, part of the timber pump platform, and various heavily-rusted parts of locomotive "Blyth" (not usable, sadly!). Parts of two buckets – which we have entirely arbitrarily decided are those used to water the locos – completed the collection – so far. We think we may have about another ten feet, or so, to go to hit water. Evidence was found of the wooden shed floor – with one section (in the store-room annexe) still complete in situ – and the main door support slots became visible, proving our supposition that the entire shed was designed for standard gauge. Quite a lot of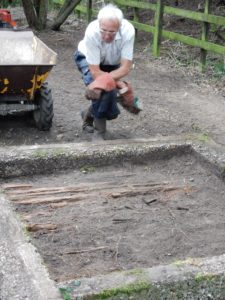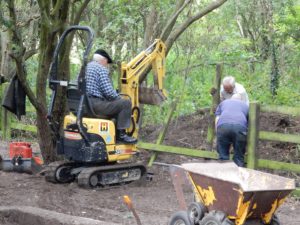 (very high quality) steam coal emerged from various holes – and some big chunks of clinker. Most gratifying – and a good morale-booster – was the universal positivity of passers-by about the railway and our plans to rebuild it: most people we talked to couldn't understand why anyone should so vehemently oppose "such a lovely idea". The SRT would like to thank the Millennium Green Trustees for this fine opportunity to do a Blyth Valley version of "Time Team". We would also like to thank whoever was responsible for holding off the rain – on Sunday – until we were ready to leave, and had finished all our tasks!