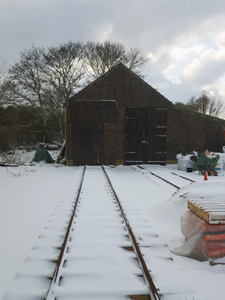 We're normally a pretty hardy bunch here at Southwold, having soldiered on through heavy winter rain or when being pestered by clouds of midges in the hot summer months. [It's amazing what the incentive of an al fresco barbecue will achieve!] However, in common with most of the rest of the UK the weather has finally managed to close down operations, so here are a few pictures of Blyth Road (pictures: Ian Overton) and Wenhaston (pictures: Dennis Adams).
No doubt some could well appear in a promotional calendar, perhaps?
A larger selection appears on our Southwold Railway Trust Facebook page.