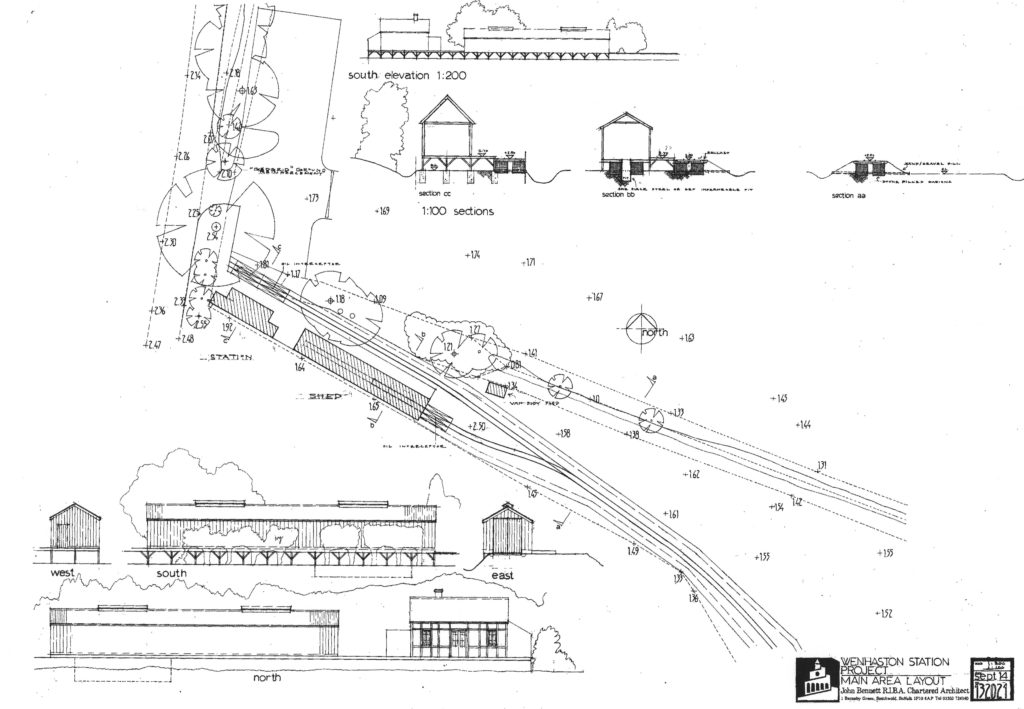 On April 30th the Southwold Railway Trust will be "celebrating" its two year wait for a decision by Suffolk Coastal District Council on the planning application for the Wenhaston Project – which we were originally promised would take only eight weeks.
Continual re-appraisals and new demands have delayed and delayed again this small, discrete plan, which aims to put back Wenhaston Station and half a mile of three-foot-gauge track, of which half is on original trackbed, and half directly alongside. Only two acres will be taken by this plan, although the Trust owns 31 acres of the site.
A few days before a possible committee decision late in 2014, we were suddenly asked to move one of the two buildings – the Freeman Coal Shed, which we had planned to put back where it used to be, in relation to the road and station building. We then had, at the last minute, to produce yet another plan, which is now even smaller and simpler than the original 2013 plan, and considerably more so than our 2012 application.
Now, this new plan is out for consultation. We would like to urge all our supporters, followers, and sympathisers please to express your support for this plan, either by e-mail to d.c.admin@suffolkcoastal.gov.uk for the attention of Steve Milligan, or write to Mr Milligan, Planning Officer, Planning Dept., Suffolk Coastal District Council, Melton Hill, Woodbridge, IP12 1AU. Please include Planning Ref. No. C/13/0833, your name, your address, and your reasons for wanting to support this Project. The consultation is not restricted to the local area, though of course Blyth Valley correspondents are particularly welcome. All submissions must be with the Council by 1st April.
We cannot rebuild this iconic and historic railway – to provide an environmentally-friendly means of transport for local people and visitors through and into the Blyth Valley, as well as a small but much needed family-friendly all-weather heritage tourist attraction – unless we are allowed to make a start at Wenhaston – on the land we own.
Please support us – and please do it today – time is very short.
The Trust needs your support – NOW