Our "holiday" at Bird's Folly (courtesy of the Halesworth Millennium Green) has been blessed by good weather, and, as always in Halesworth, by positive comments from passers-by. The main team, led by Trust stalwart John B, has completed the complex base for the pump platform, with the handrails, etc. still to go on. The structure is almost certainly stronger than it was 100 years ago. Having found an original timber down the well, we will incorporate small still-usable sections of that into the new structure. By agreement with HMG, our partners in this endeavour, we will not be restoring the floor or steps to the structure for the moment, as that might attract vandalism – but the platform will look, from the public footpath, pretty well as it was.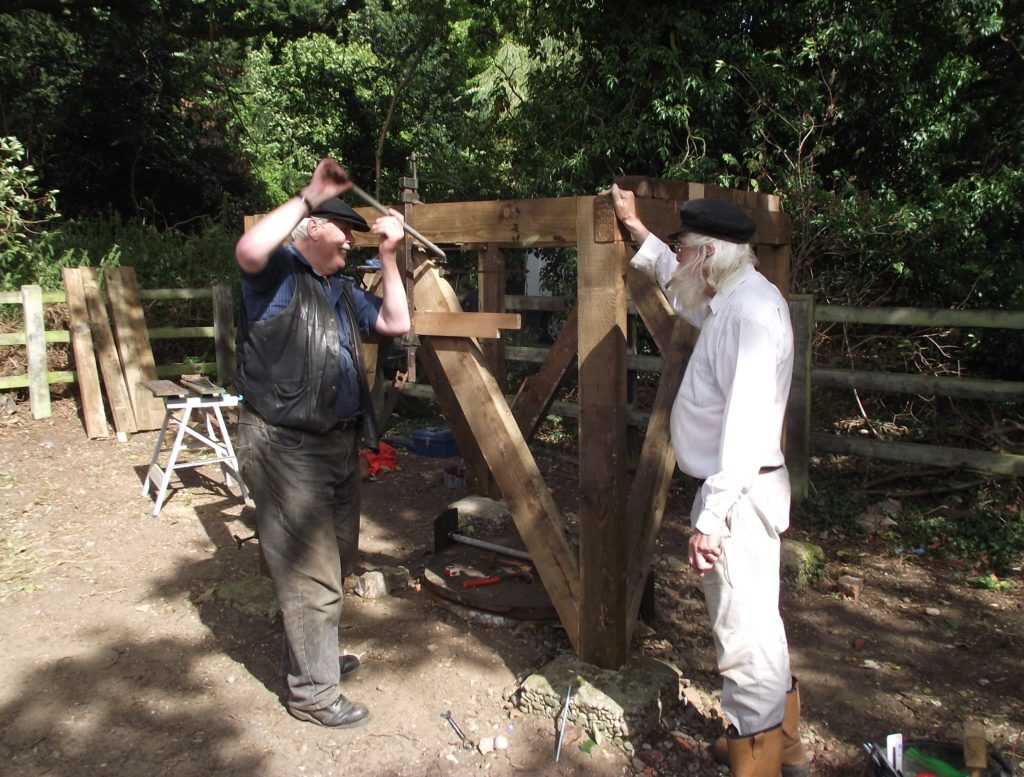 We seek an Edwardian or Victorian chain pump body (doesn't have to be working) to complete the re-creation (we already have a section of the chain itself, kindly donated to the SRT by the EATM)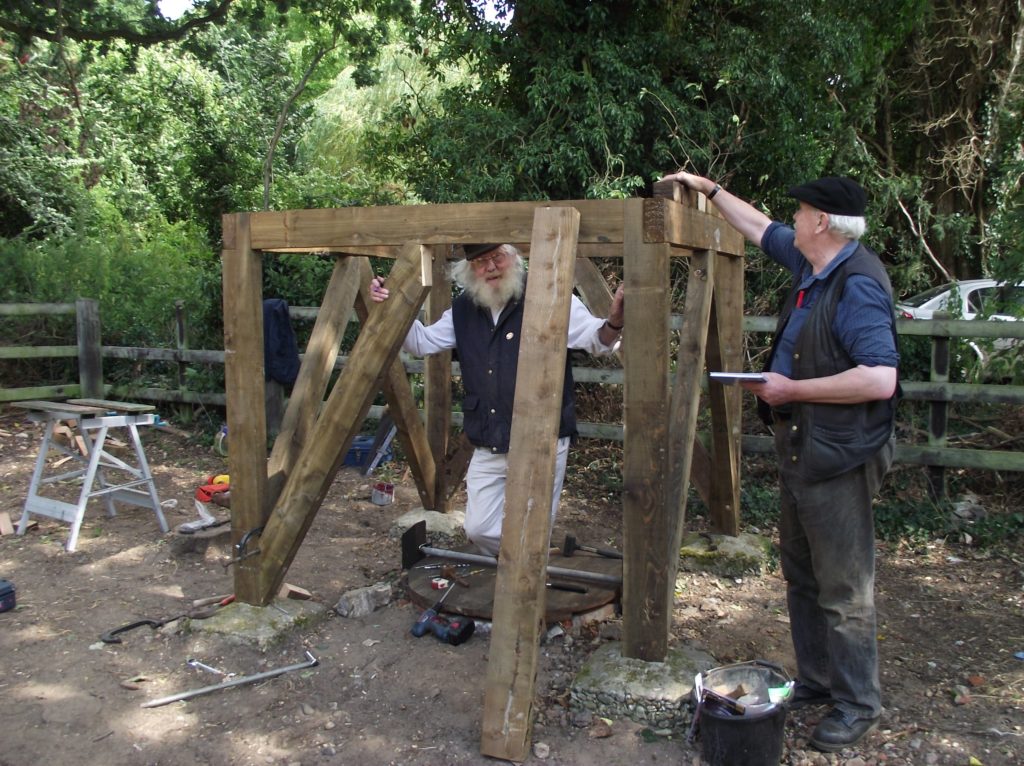 Work on the well has stopped for the moment, as it is unsafe for the carpenters to work so close to an open pit – we may resume this at some stage, but of course have to return, soon, to our own land, where more fencing (oh joy), gates and tree work (partly after the recent high winds, and partly as recommended by the District Council) await.
The restored buffer stop is pretty well complete, with the full-width 14" by 8" timber in place, and three short pieces of supporting original SR rail re-welded onto the stubs left by the 1942 gas-axe. A tidy up and some paint, and it's done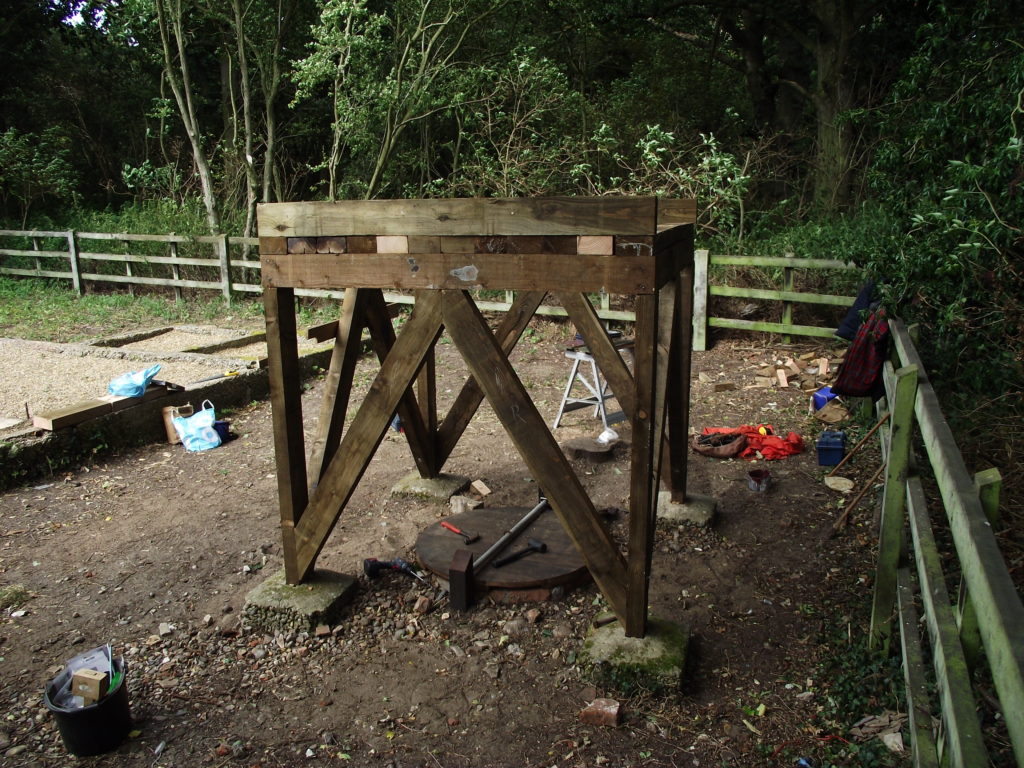 Meanwhile, despite our recent success in gaining planning permission for the project at Blyth Road, Southwold, regressive tendencies are still trying to prevent it ever happening. A faction in the town (which has some supporters on the Town Council) – the same people who were so extremely unpleasant at the planning hearing – is still conducting a stubborn rear-guard action, as they are, for some unfathomable reason, absolutely determined that Southwold will not ever be able to celebrate this important part of its history. Presumably, they would like to see the lighthouse demolished, and we know they hate the pier – because they both "bring in those irritating tourists". Reasonable, unselfish, and sensible people will smile, and shake their heads sadly – and move on. As former Chairman John Bennett said in our Newsletter – this faction thinks that "Ideally, visitors should come as far as Might's Bridge, leave money in sacks and return whence they came". Says it all, really.
Anyway, back to reality – interest in buying shares in the revived Southwold Railway Company Limited is strong. We are gathering expressions of interest, prior to the actual share issue, which will only happen if there is enough support. The Company has been set up, initially, to purchase and develop the site at Blyth Road, Southwold (which some already call "Southwold Station"). If you want to be in at the beginning of this exciting venture (in which the Trust will hold a majority stake), let us know (on the contact section of this website, or by post to the Company Office) – I imagine that the lower numbers on the shares will become more valuable, as we expand. Shares are valued at £50 each, and (tho' we don't of course promise dividends!), I should think these will be highly collectable.
The team gets stuck in – and the railway-charity-hating trolls just won't give up