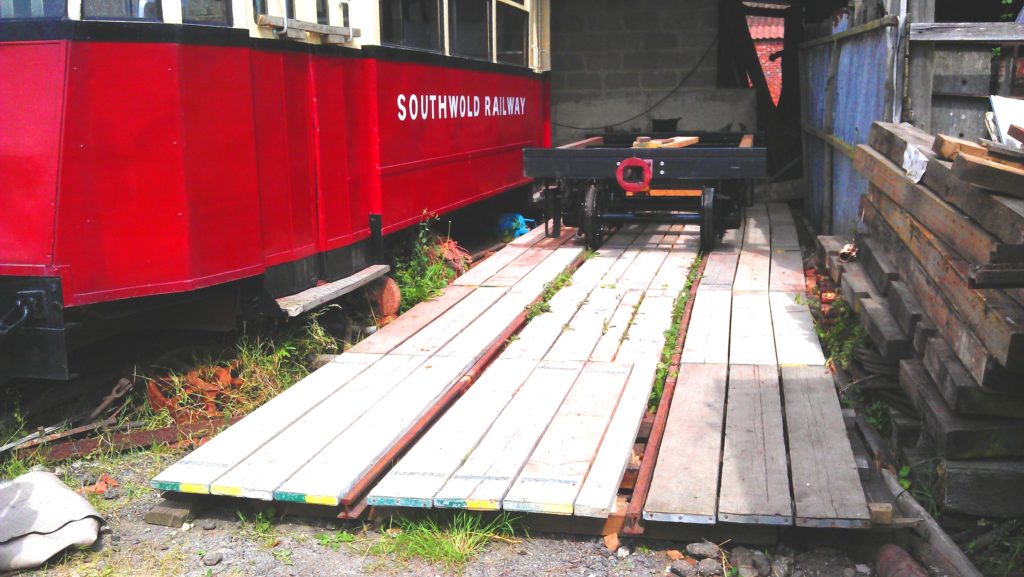 High summer in the Blyth Valley saw continuing large teams working for the Trust – plus some new volunteers. The weather has been very kind indeed, if a little too hot and muggy.
At Blyford Lane, on the Wenhaston station site, we have completed the WC ready for next winter, with a decent roof and another coat of bituminous paint: Van 13 has also been fettled up. A start was made on the frontage fencing, which will mimic what was here when the railway was running: the SR used decorative diagonal palings near its stations, which I have always thought was a Midland Railway design.
The access roadway continues to be fettled as necessary. On the trackbed itself, the Blyth Valley Light Railway (7¼") is being extended panel by panel – and at the driftway crossing there is now some SR timber fencing on the north side.
The idea here is to present this section – about 2 chains-worth – as a demonstration of how we plan to rebuild the entire railway. Thus the track itself (temporarily laid owing to planning restrictions) is designed to avoid large specimen trees where possible, while keeping as close as possible to the original formation, and a separate footpath is provided, parallel to the track but fenced from it.
The Blyth Road Project at Southwold continues to evolve, with many of the conditions being mitigated, and pollution and environmental necessities being pursued with various organisations and advisors. The first thing the Trust must do is buy the land: this is in Southwold, where property prices are very high indeed. Pleased consider sponsoring this purchase by donation (you can do that on this website) – it's the first time that SRT have ever managed to get permission to build a permanent base, with a workshop open to the public, a tourist attraction, a small but interesting yard of demonstration three-foot-gauge track, and a nature reserve. We cannot let this chance go.
At Halesworth, we will be spending our "summer holiday" again at Bird's Folly, thanks to the Millennium Green. We hope to complete the work we started last year, so the loco shed and surroundings can be properly presented to the public.
The Heritage Train is also moving, with the Van 40 fixed body complete, and soon to be canvassed in traditional fashion, and Wagon 41's underframe almost complete, with the floor going on soon. The Motor Rail's engine and electrics are complete.
The Trust will be attending the Southwold Model Show on August 6th and 7th – please come and see us there – it's always a very good show.
Summer Progress – at three places along the trackbed