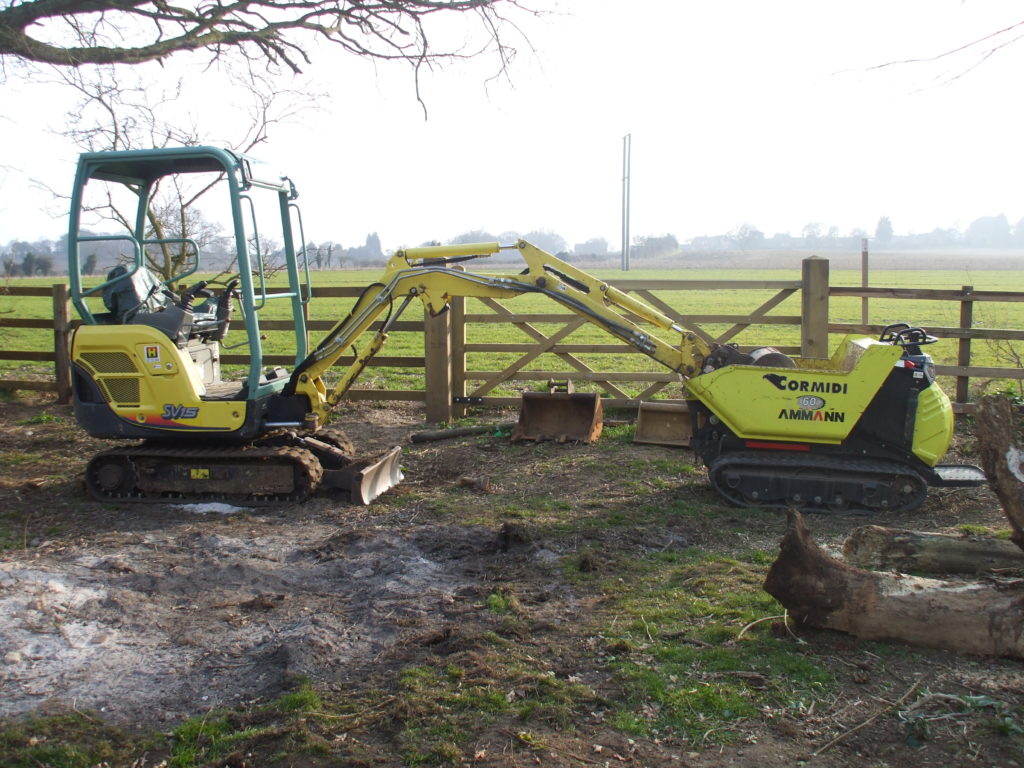 For the first time (well, since 1929, anyway), the Southwold Railway has been running a week of Mutual Improvement Classes – an old and honoured railway tradition. In the sure expectation that we will rebuild the railway (if only because we will NEVER give up on that ambition), we decided to train as many Trust volunteers as possible to operate plant, so we will be ready for action as soon as we are allowed. Nice though it has been to labour away with basic hand tools – like – in fact exactly like – nineteenth-century navvies, in clearing and improving our land for the benefit of members (and wildlife), there will come a time when small, relatively low-tech machinery is necessary.
So we hired a small tonne-and-a-half tracked 360 excavator and a very tiny three-quarter-tonne tracked dumper (better for the land than wheeled plant) from Harford Plant Services Limited of Norwich for a week, and six volunteers have already been trained on both: one is already at a stage where he can train others. Naturally, it would be silly, and a bad use of scarce resources, not to do some work as well – so the small dumper (which I must admit makes the driver look a little ridiculous, perched as he is on a small shelf protruding from the rear) has been shuttling back and forth, with logs from storm-destroyed trees and metal scrap going one way, and fencing timber, tools, and the fencing parts already repaired at the workshop in the other. The 360 has been tackling the remaining very large stumps – which have proved very tenacious indeed, fighting every inch of the way – and grading the huge piles of earth produced by local rabbits, to provide a safe and comfortable graded path for Members who want to see the original trackbed they bought for us. This kind of activity is ideal in the bird nesting months when no tree work is allowed.
Our friend Mr Desborough of Wenhaston brought the timber quite close to the trackbed in his trailer, so we have manually unloaded the 200-or-so pieces from there. (The story of the collection of this timber is a saga in itself – as we needed just over twelve foot lengths of fence rail, we couldn't find a local supplier for this – the standard length here is just under twelve feet [3.6m]. So a Mercedes Sprinter van with a four metre loadbed was hired for a week from Lowestoft Car Hire, and our slightly decrepit driver leapfrogged from Travelodge to Travelodge to Galloway, a round trip of about 900 miles. The company – Penkiln of Newton Stewart – were very helpful, although rather surprised to get a customer from East Anglia. And why, I hear you ask, didn't we get a haulier to fetch it? Because no-one would give us a quote for less than £750, and the van and diesel cost a lot less than that)
The classic SR post-and-four-rail fencing is now in the process of repair, using a combination of original material and newly-delivered Scottish treated larch, very similar to the SR's own fencing timber. The main difference is that we can't now use creosote, so the timber is treated with copper tanalising.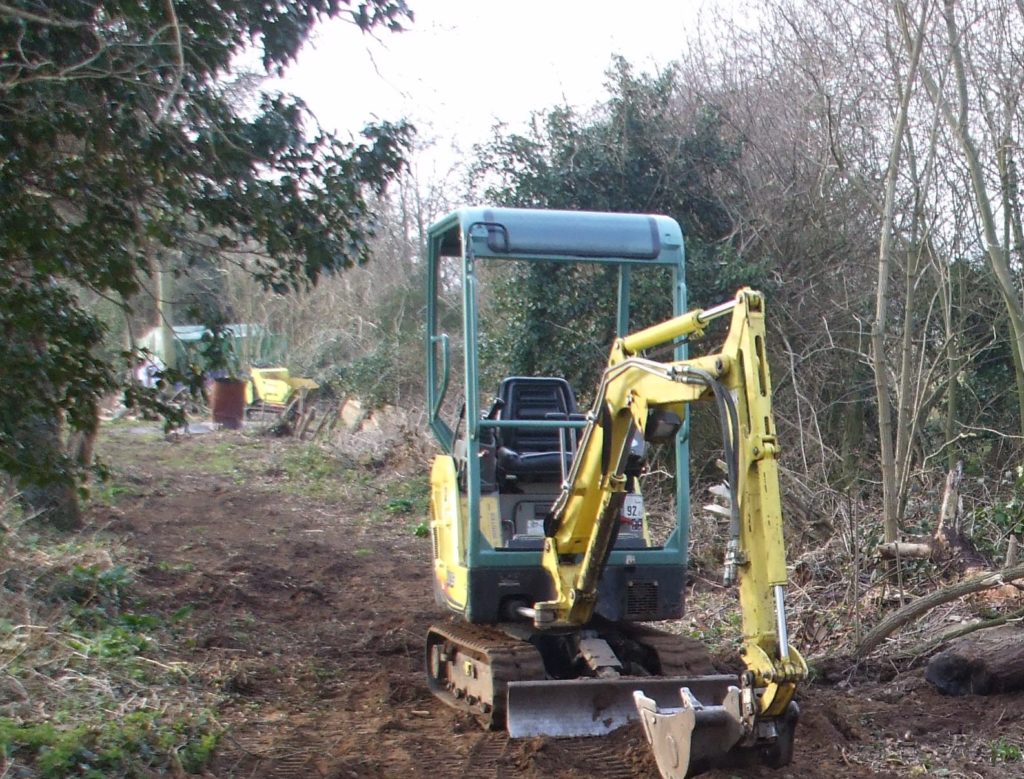 In a month or so we will have about eight chains of fencing re-made – still a long way to go, but a good start. By the end of Thursday, Chris and team had rebuilt two chains-worth (44 yards – the SR doesn't do metric!) plus the gate – getting well scratched in the process by some particularly vicious blackthorn, which, for the purposes of encouraging wildlife, we are trying to work around.
Southwold Railway Mutual Improvement Classes