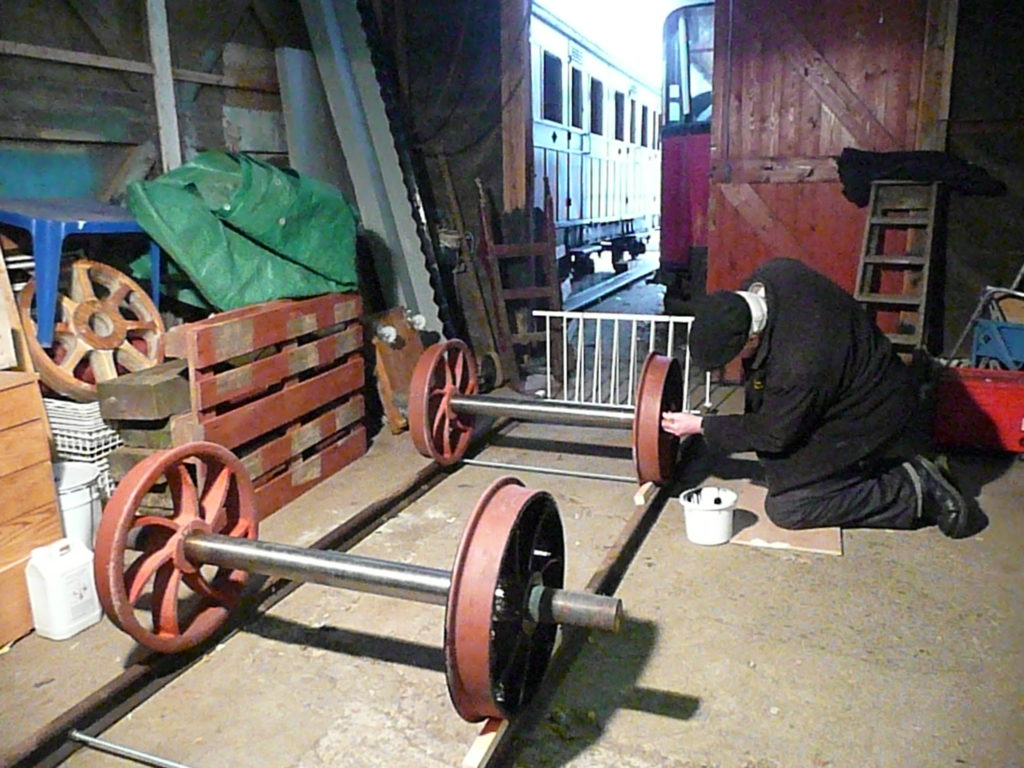 The chassis components for our replica SR covered van arrived back from Peggs of Aldeburgh on 1 Feb., transported courtesy of Duncan's Builders. Peggs have done a very nice job with the new axles, and have also welded in around 6" of new metal to separate the solebars and lengthen the brake cross-shaft. So we now have a pile of steel, some to be re-used, like the solebars, W-irons, and sub-frame, and some to be used only as templates, such as the buffer beams and gussets.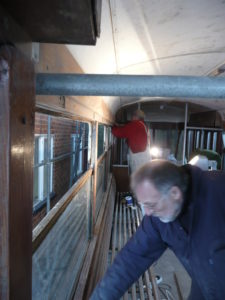 At the main Workshop Day, which was very well attended by over a dozen people, we moved the Van chassis components into the workshop using the newly-manufactured heavy-duty trolley and a lot of manpower (access to the workshop is not straightforward, as both the Tram and Manx Coach are in the new temporary building directly in front of the doors). The main sub-frame (solebars plus cross-members) was then primed where necessary, and the wheelsets cleaned up and primed. Meanwhile, the first panel of three foot gauge (actually 36 1/16") Southwold Railway track to be built by the Trust was assembled from original SR rail and threaded bar cross-ties – a historic occasion. White paint on the rail ends defines them for safety against trip hazard.
Work continued on the rubbing down of the Tram saloon ceiling, the preparation of much of the internal saloon timber panelling, and a thorough scrub and clean of much of the external Tram body.
It's a long haul, but we're getting there!
Rolling Stock Group – February 2013