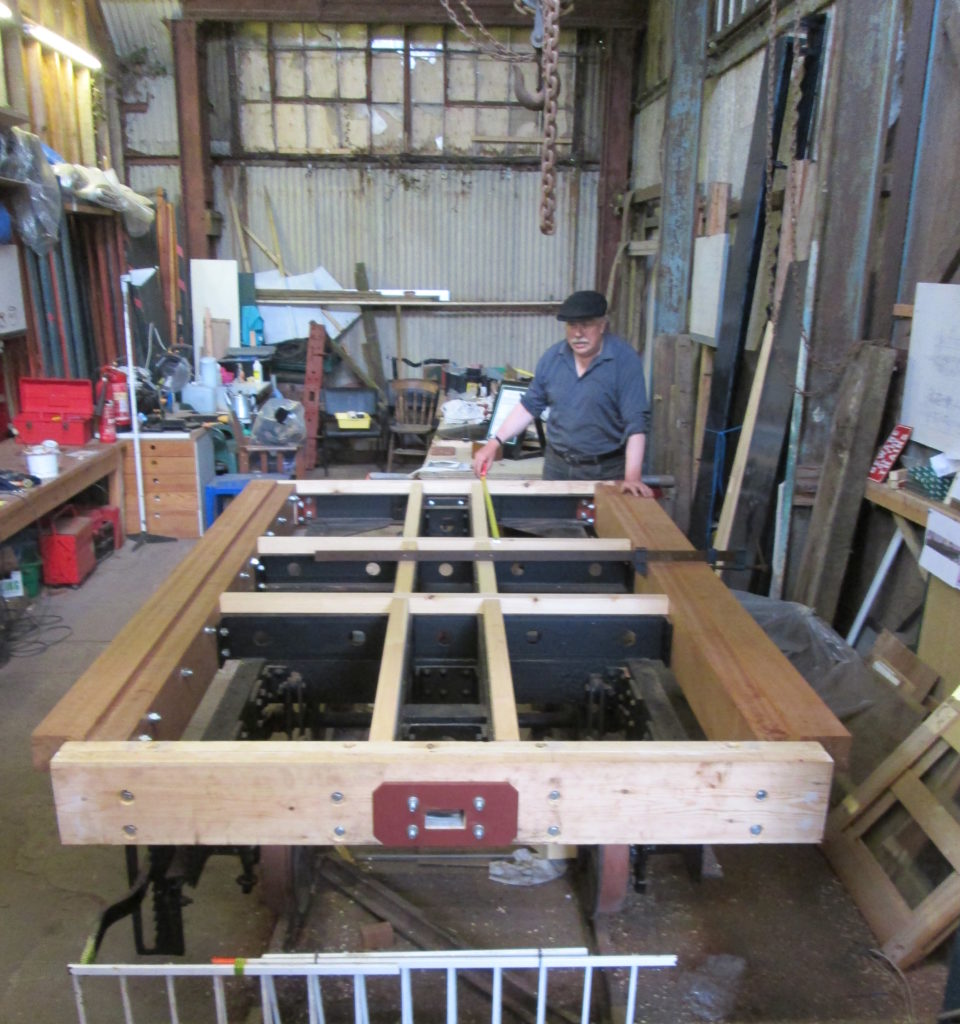 Two working days in early June – one scheduled and one extra – brought our two main projects – Coach 7 and Van 40 – nearer to completion.
On Coach 7 the concertina doors – which have been a marathon of unprecedented proportions – have been sanded down, primed and undercoated outside, and the aluminium sheeting and wooden panelling on the inside are now complete. We have some very nice replacement leather straps for these, on which we will stamp SR in time-honoured railway fashion.
The Van 40 underframe has moved on with some speed: the 8 inch by 3½ inch sapele solebars are fixed into the steel substrate – with a large number of M16 high-tensile bolts and four heavy brackets each. The base plates – also substantial hardwood, to take the mortices on the uprights – are now bolted into the solebars. In fact, these bolts (220mm each) are so firmly affixed that it took a severe belabouring with a heavy clump hammer to get them in (and when one had its thread damaged by this unorthodox treatment, drifting it out again was just as hard).
One headstock is complete, and fitted, while the other just needs a few more holes drilled.
We seem to have spent some months drilling through steel – which is at least 5mm thick – as well as using both drill bits and hole cutters to prepare various lengths of SR rail for re-use. Conventional bits blunt quickly (particularly in nineteenth century rail or in 1950s military-specification steel channel), while hole cutters are both expensive and impossible to sharpen. We have not found a solution for this one.
Several 2 inch by 2 inch spacers remain to be fitted to the steel – then, after a thorough clean-up, prime, undercoat and topcoat, we can sign off the underframe job. The van body will come next: in fact we will be having two such bodies built – one for the working vehicle, and one for the grounded van body at Wenhaston. Sketch of replica SR high-ended open wagon, on modified RNAD chassis
The next wagon (which is in Norfolk, awaiting space in Southwold) will be easier (and we can eliminate the various false starts and delays that we had with No 40 – our excuse is that no-one had ever tried to modify an RNAD underframe outwards!): this is planned to become an iconic SR high-curved-end open wagon.
Our Shop Manager, Stewart Green, who also volunteers at both Wenhaston and the RSG, swapped a railway paraffin container to our friends at the Whitwell and Reepham Railway for two historic rail/sleeper lifters – some of the team are shown using these to lift a small section of original SR rail.
No 7 and No 40 start to look like the real thing