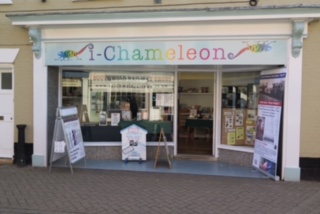 The Southwold Railway Trust would like very much to thank all the local organisations who participated in our first Pop-Up Shop at iChameleon in the Thoroughfare, between April 7th and 13th. Our thanks also to Just Nice Things for the immaculate shop premises, to Halesworth Library for lending us display boards, and to all the residents of Halesworth – and the traders – who were so welcoming and supportive.

We were joined by Halesworth Museum, Halesworth Millennium Green, Halesworth Tourism Group, Halesworth Volunteer Centre, the East Suffolk Travellers' Association, Halesworth Men's Shed, the New Reach Group, and Al-Anon, many of whom also helped us to staff the shop.
Our idea was to gauge whether Halesworth wanted to get back its narrow-gauge branch line through the Blyth Valley: it seems that the answer is a resounding "yes" (we easily managed 101 signatures on our petition to the planning department, and picked up quite a number of new Members and volunteers). The Trust has therefore booked two more weeks in spring and summer 2017, and will invite all these groups, plus as many more as can be accommodated, to join in with us again: serious work on finding ways of rebuilding the railway in Halesworth, while remaining sensitive to the wishes of householders and landowners, will now also begin, as we are now assured of support.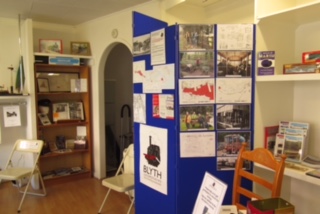 It is perhaps telling that seven days in this town of over 4000 people produced only friendliness and (very vocal) support – not something we are used to in certain places to the east! Halesworth, however, is a "proper" town, with many working families, a decent range of ages and skills, and a population which appreciates what a heritage railway is, and what a railway charity does. Doubtless the more unreasonable part of the opposition will now say – "well, go and do it there, then" (while at the same time, of course, denying that they are NIMBYs). The latest survey by the Heritage Railway Association shows direct earnings in the UK by heritage railways of £112 million per year (indirect is five times that), with visitors totalling 11.7 million – 2,666 people are employed, aided by 19,775 volunteers:  but still the Suffolk coast declines to receive any of the benefit which the heritage lines bring to – for example – Norfolk (which now has seven).
First SRT Pop-Up Shop a Great Success