The weather was a tad too hot for outside working yesterday but the small team of volunteers still managed to progress a number of projects.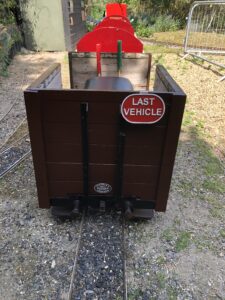 Some plumbing was added in the kitchen to assist the filling of the tea urn, a cabinet was constructed for use in the carpenters shop, progress was made on cleaning up items stripped from the next RNAD chassis we plan to have regauged to 3ft, the water containers in hand for the water tower were moved to give more room in the volunteers car park, areas of the engine shed received a spruce up and the guards truck on the BVLR received a LAST VEHICLE sign along with a storage box behind the guards seat to carry the first aid kit, plus anything else the guard deems necessary.
Volunteers gather at Steamworks most Wednesdays between 10am and 4pm, if you would like to come and join us you will be most welcome, either to use your existing skills or to learn new ones.
A Hot Day for the Volunteers