As hinted in an earlier blog post we recently took delivery of a permanent way trolley. This is a lightweight basic item of rolling stock used to carry tools, etc for the track gang when they are working on the permanent way.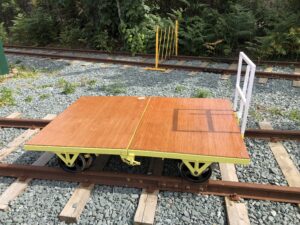 The unit was built by Rotamag Track Equipment for use on standard gauge rails and bears the serial number A241038. When purchased it was missing one brake, the pushing handle and decks. About 50cm was cut out of each chassis cross member then welded back up again to reduce the gauge to 3 feet. A new handle was made from steel saved when a desk was disposed of, the brake mechanism was re-attached then a new plywood deck was sourced and treated with a few coats of varnish to make it weatherproof.
The trolley is placed near the portakabin on open days for closer inspection, though not too close as it was my first MIG welding job!