Southwold Railway Online Shop
Welcome to our Online Shop. Here you can buy any of our fundraising merchandise. Just click the Category headings to the left to view what is available and make your selection. Postage & Packing is on a sliding scale, with 6 or more items posted FREE of charge!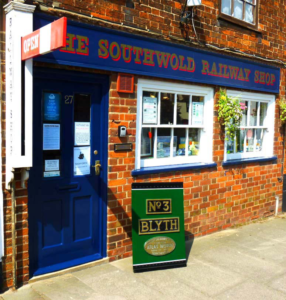 If you are in Southwold then do visit our "real" shop, where you will find an even greater range, including exclusive top-quality Southwold Railway mugs, embroidered polo shirts, and 'seasonal specials'. At the moment we have a large selection of individually crafted wooden gifts (turned by one of our members from wood reclaimed from our land in Wenhaston).
We try to open the shop Tuesdays and Thursdays from 10:00 to 15:00, plus Saturdays from 10:00 to 16:00 (subject to staff availability). During school holidays we will also try and open on Mondays if we can, so do pop in when you're passing and find out how we appear to have fitted in a full-sized Southwold Railway carriage!
Southwold Railway Shop,
27 High Street, Southwold
IP18 6AD
Tel: 01502 725422 (24-hour answerphone)