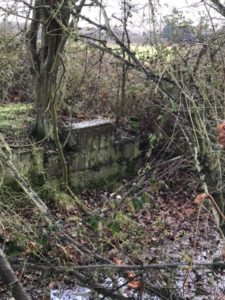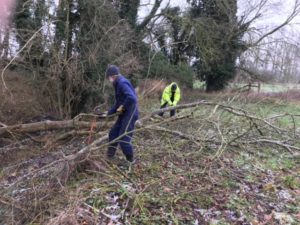 As previously reported, the workforce now makes a point of meeting on the first Wednesday of each month at the Wenhaston café prior to adjourning to tackle jobs in Wenhaston, along the trackbed or at Bird's Folly. The end of February marks the final day when work can be carried out cutting back hedges and so forth before the commencement of the birds' nesting season, so it was imperative that we attended to some of the storm damage that had affected trees and bushes along the trackbed. While John H attacked various fallen trees with his chainsaw others of the team grubbed out damaged undergrowth and got the obligatory bonfire going to dispose of as many of the fallen branches as possible. Placing the bonfire over one of the root stumps from a previously removed tree also helped to kill off regrowth too. Dave fired up the ride-on mower and trimmed the grass along the trackbed, while Ian, Alan and yours truly tackled a large ash tree that had fallen onto our land down at the car park.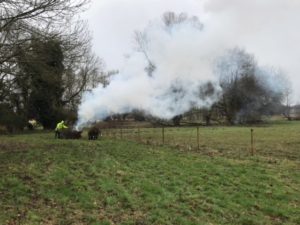 It took some doing (as the rain was quite heavy to start off with) but a second bonfire eventually got going and quickly reduced most of the tree to a pile of embers. Toby strimmed around last season's newly-planted willow saplings, which are all about shoulder height now. Alan rounded up the debris and added it to the bonfire in the car park. We plan to try and keep up maintenance in this area during 2018 so that the willows have less competition from the nettles and reeds that grew up around them last season.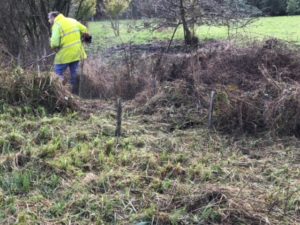 Needless to say, we all survived the weather to enjoy our customary barbecue on site – courtesy of Toby and John.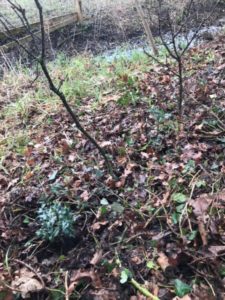 There's nothing like a bit of fresh air – and a spring shower – to give you an appetite! After lunch the team continued tidying up the trackbed while I planted a few holly sapling to replace spindly, damaged trees that had been removed. Additionally, these will help to shore up the bank in time and provide valuable screening from the drainage ditch so that visitors are less likely to end up with their feet wet.
All part of the service…!