Mid-Suffolk Light Railway Gala
Saturday September 9th and Sunday September 10th
The Trust will be attending this always-enjoyable steam gala, where both surviving Y7s will be in steam and hauling trains.  Greatly recommended
Halesworth Heritage Open Days
9th and 10th September, around Halesworth
Enjoy Halesworth's heritage.  Guided railway tours from Halesworth Museum (at the East Suffolk Line Station)
Southwold Railway Track Walk

Saturday 30th September 10.30
Blythburgh to Wenhaston, meet at Old Station site, alongside the A12.  Led by Graham Cross
LOWMEX    –   The
Lowestoft Model Engineering
& Model Making Exhibition. 
Sat Oct 21st & Sun Oct 22nd 2017, at Ormiston Denes Academy, Lowestoft

The Trust will be attending this fine model engineering show
Work Parties
Every Wednesday & Saturday (except Saturday September 2), 10.00, usually meeting at SteamWorks, Blyth Road, Southwold IP18 6AZ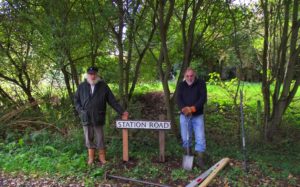 All members welcome and prospective volunteer/members – if travelling long distance, please check on 07929 289501 first, as the weather may alter our plans!
Southwold Railway Trust Annual General Meeting
Saturday November 11th at the Electric Picture Palace, Southwold
All paid-up Members are welcome.  Learn about our achievements so far, and our plans for 2018 and beyond.  If you are not a Member and wish to attend, joining is easy, on this website.