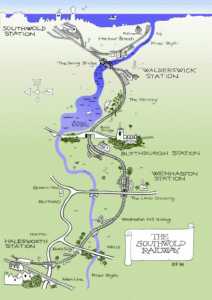 Committed to restoring the historic narrow gauge railway link between Halesworth & Southwold; preserving it for future generations to enjoy.
The Southwold Railway was a remarkable 3 foot narrow gauge line linking the fashionable Suffolk seaside resort of Southwold with the Great Eastern main line at Halesworth 8¾ miles inland. Opened in 1879, it gently wound its way towards the sea through the beautiful valley of the River Blyth, with intermediate stations at Wenhaston, Blythburgh and Walberswick. After almost 50 years the line closed suddenly in April 1929, and we at the Southwold Railway Trust are dedicated to preserving the memory of this special little railway and re-opening as much of the old route as we can. As can be seen from this film parts of the trackbed are still in good condition.
Investigate our Wenhaston Project page to find out more about these plans and our latest venture, Southwold Railway Steamworks; while our Trackbed Fund looks even further into the long-term future. Go to the History page to find out about its past, and visit our Galleries to see pictures of the line; past & present. The Trust Projects page will keep you abreast of the progress on building a replica of locomotive No. 3 BLYTH and its exciting Heritage Train project, while you can keep fully up-to-date with all the news on our Blog. Don't forget to visit our Shop page too, where you will find a tempting selection of cards, books, DVDs and other gifts.
To achieve all this we need funds, of course! You can Donate towards a specific fund, like Southwold Station, or simply to the SR Trust. We are always grateful for support from volunteers who are able to offer skills and help in a variety of ways; so why not join today and become part of the action? If you are interested in becoming a volunteer please contact us through mail@southwoldrailway.co.uk. Help us bring narrow gauge steam back to Suffolk after a gap of 87 years!